Decades are passing by in the so-called information age and the exponential growth of data generated on a daily basis is relentless; digital networks have long since consolidated their importance in daily life. In this scenario, the possibilities for Marketing Intelligence are enormous and it is almost a cliché to say that empirical marketing based on data cannot be left aside.
Managing the massive amounts of data that modern businesses have to deal with can be costly and complex. This is where Salesforce's Marketing Cloud Intelligence platform (Datorama) comes in. Created in 2012, it has become increasingly integrated into the Salesforce ecosystem. It serves as a meeting point for all Digital Marketing solutions. It makes it possible to unify data from various sources to create a centralized hub from which value can be extracted.

It is worth mentioning that Salesforce is in the process of rebranding some of its platforms, and Marketing Cloud Intelligence was until just recently known as Datorama.
Through more than 120 APIs – or connectors – for the most relevant platforms and databases of the moment, data can quickly and efficiently be integrated in order to start analyzing and extracting knowledge. It does not forget about users who have data from other sources as it also has generic connectors, thus facilitating data ingestion for practically any case.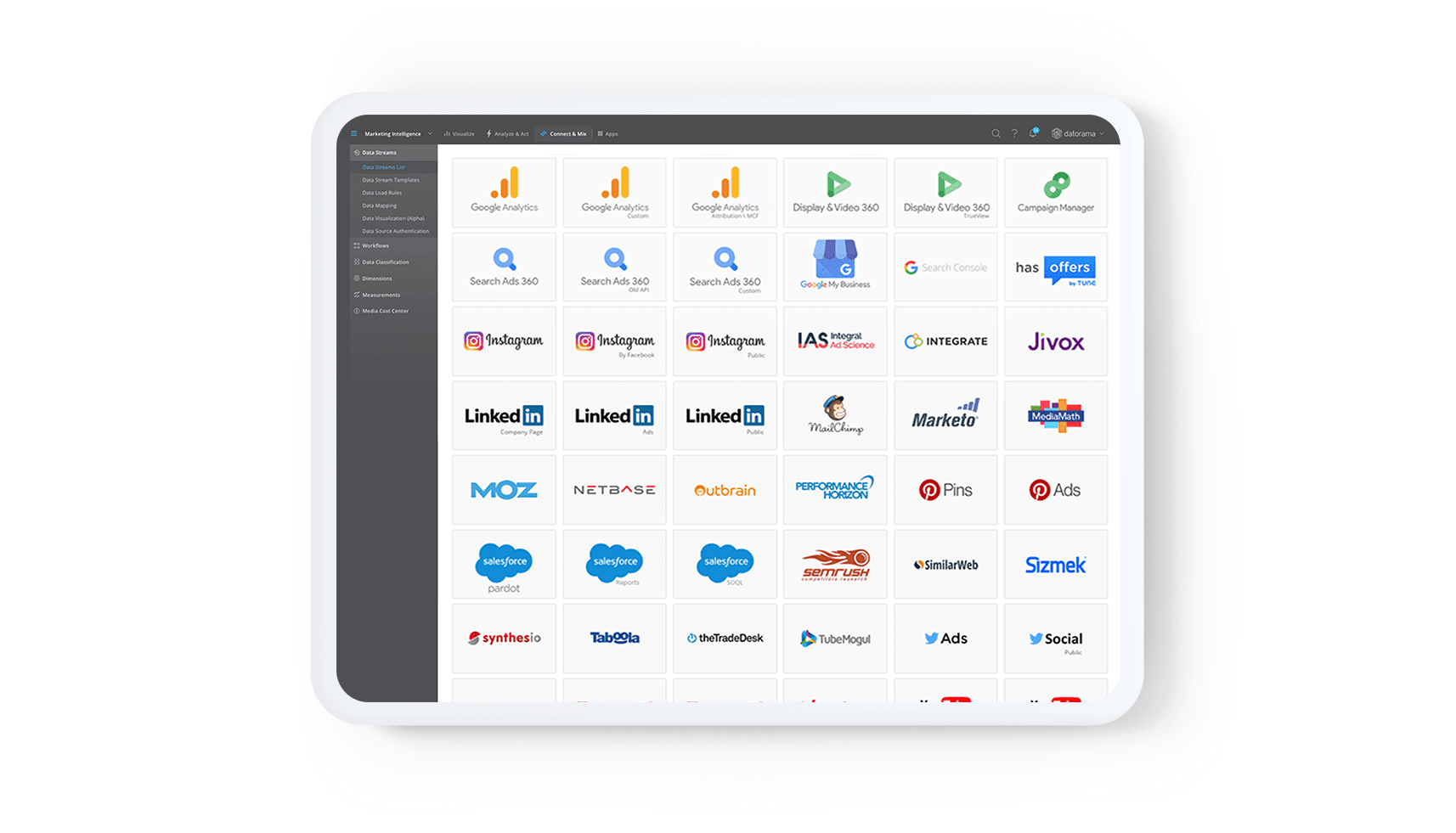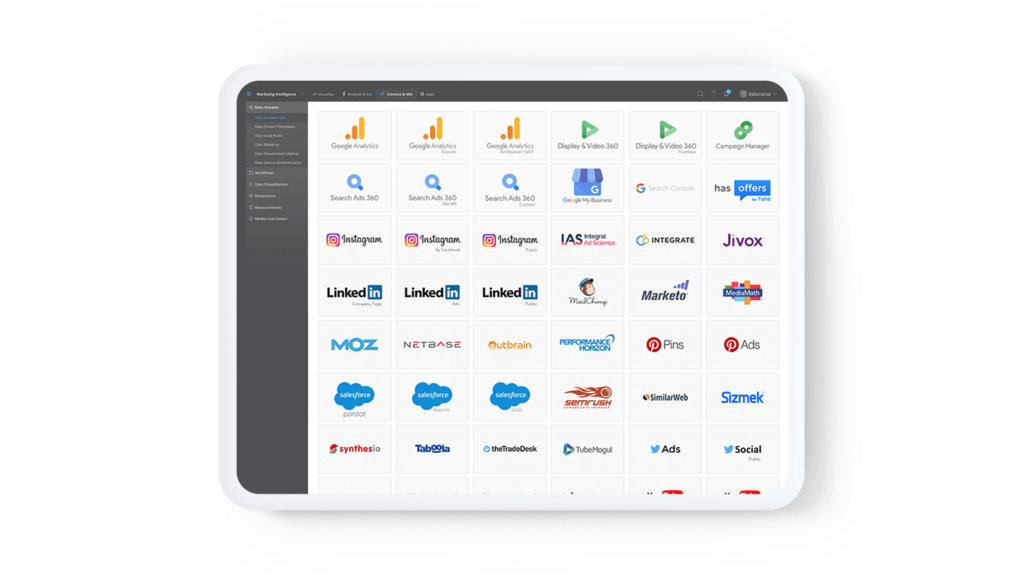 Marketing Cloud Intelligence (Datorama) is focused on digital marketing, and is designed to work with relevant data from the industry. It therefore comes equipped with tools that facilitate data harmonization, to create a cohesive, logical and useful dataset. All this leads to the optimization of data management and study of KPIs.
It also has integration with Salesforce's artificial intelligence – Einstein – which can look for otherwise hard-to-see patterns and provide possible solutions by leveraging the latest advances in machine learning and AI.
It is no surprise how popular dashboards are becoming in today's landscape. They are the modern solution for efficient and intuitive data visualization, through a series of dynamic widgets that show summaries and key aspects of marketing campaigns in real time. This allows the visualization of concepts in a much simpler and more natural way than looking at a spreadsheet. Marketing Cloud Intelligence (Datorama) makes it easy to create these dashboards with the data that has been ingested. Through an intuitive interface it gives a lot of flexibility to create solutions that are tailored to the client's specific needs.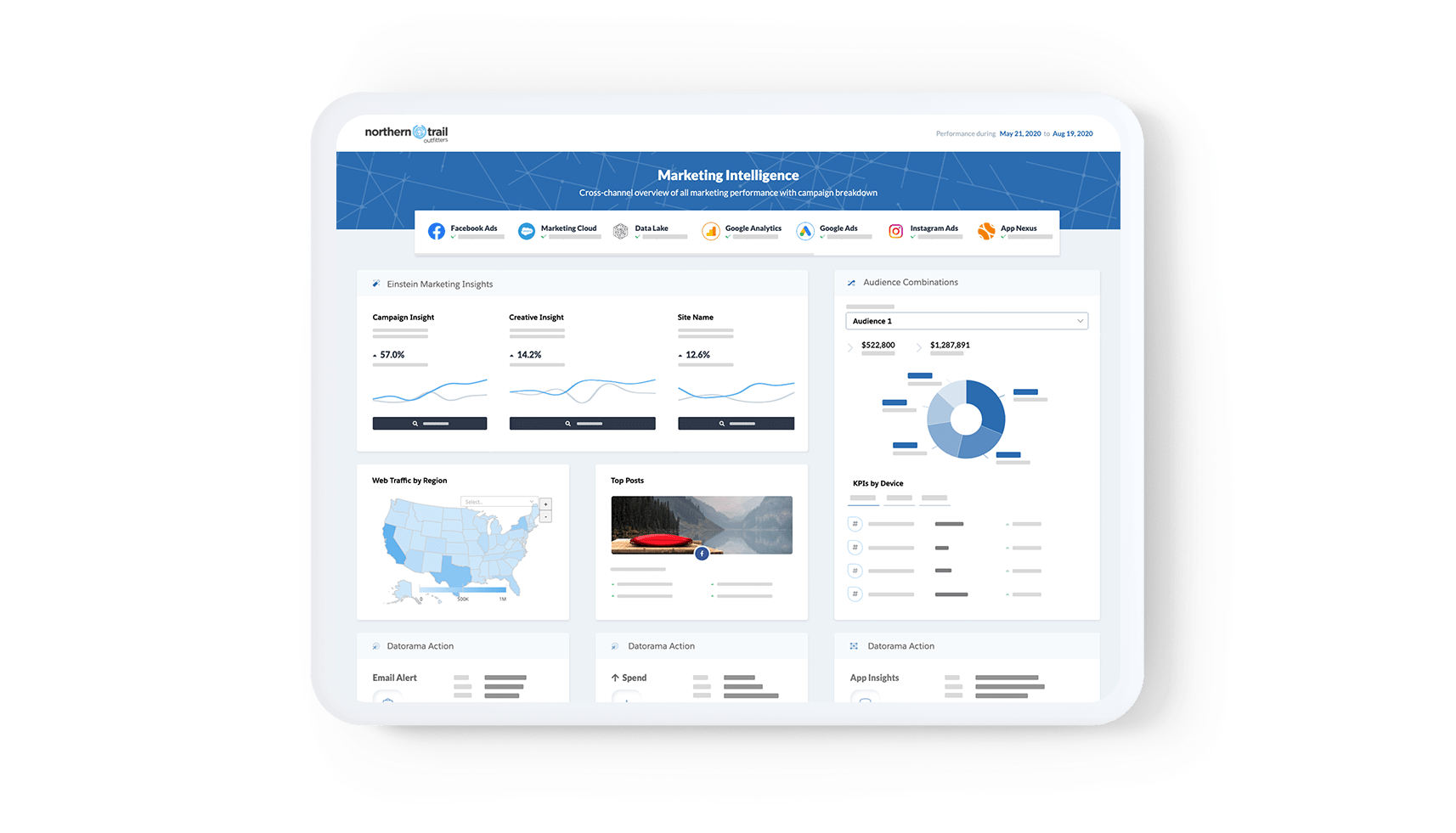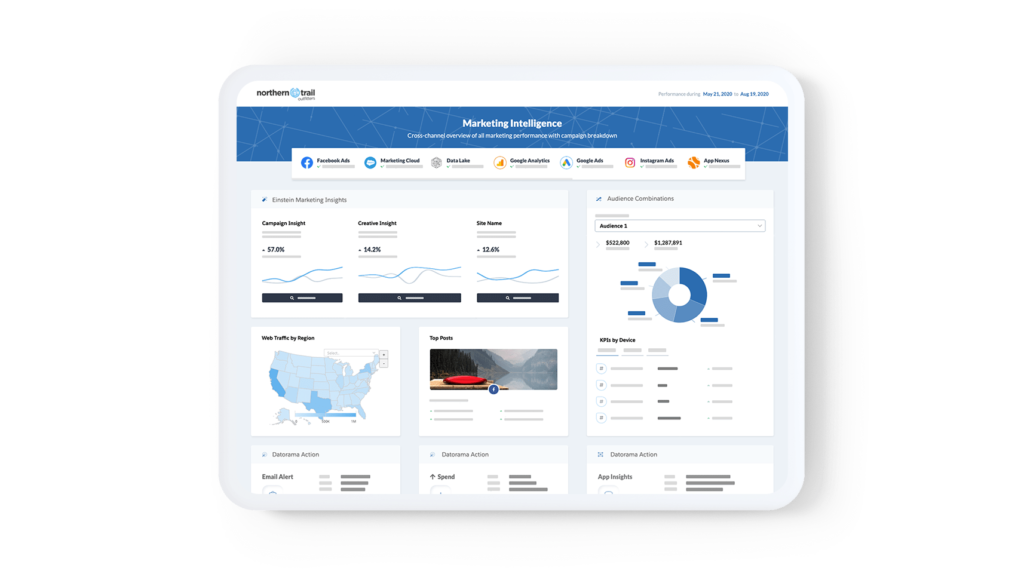 There is also the Marketplace: A repository full of tools and applications to further customize the experience. You will be able to download the apps you want in a matter of seconds and with immediate integration to the platform, with just a few clicks of the mouse.
Summary of Key Concepts
Eliminates the challenge of coordinating multiple Analytics platforms.
Reports are constantly updated without requiring a high level of effort.
Organized information that facilitates the visualization of data in dashboards.
Campaign tracking requires analyzing the data in terms of the steps that users record across different digital assets.
It does not require a traditional integration project, standard APIs facilitate this process.
Specialized in marketing intelligence for multichannel activities.
All this means that Marketing Cloud Intelligence (Datorama) delivers a reduction in marketing costs as well as time spent managing and interpreting data. It provides more time for critical thinking, decision-making based on the analysis of this data and attaining business goals.
If you are looking for a modern solution to treat data and extract knowledge and value, this is a great option. It has Marketing Intelligence solutions for all marketers, regardless of their sector. It centralizes your data and supports your decision making, optimizes your marketing campaigns, automates various labor-intensive processes and helps with data-driven decisions.
At Showerthinking, as a Salesforce Registered Consulting Partner, we have been working with Marketing Cloud Intelligence (Datorama) for many years. The evolution of digital marketing brings with it more complex solutions and technologies, and we are proud to have successfully implemented solutions in Datorama for several pharmaceutical companies.
Here is a link to a webinar held in 2021, in which we have a deep dive into the opportunities that Marketing Cloud Intelligence (Datorama) offers pharma companies in order to understand how healthcare professionals behave across multiple channels using a single source of information. Allowing a quick and efficient analysis of the data.