Is Pardot the best tool for your project?
There's no doubt that Salesforce has a very interesting Marketing Automation solution that stands out for its complete integration with Salesforce CRM. Now it remains to be seen if Pardot fits into your project.
As a preview and before going into the depth of the analysis, you have to know that Pardot becomes more efficient the lower you work in your conversion funnel and it's a particularly useful tool in projects where you want to get the most out of the data (customer loyalty actions, reactivations, cross-selling,…).
What is Pardot?
Pardot is a Marketing Automation tool that is part of the Salesforce technology suite, a solution that is part of the Sales Cloud, since it is focused on digitizing B2B business processes. Sometimes it is also offered within the Marketing Cloud, both approaches are equally valid. At ShowerThinking we like to talk about Pardot as a Salesforce CRM plug-in.
Looking back on its history, Pardot was founded in 2007 in Atalanta and in its beginnings allowed integration with a variety of CRMs, including Salesforce. In 2012, Exact Target purchased Pardot, which months later was acquired for a whopping $2.5 billion by Salesforce, Marc Benioff's company. Exact Target was renamed Marketing Cloud. Over the past few years, Salesforce has invested heavily in improving Pardot, focusing on native integration with the lightining platform.
What has Salesforce done with Pardot since then?
I will shorten the story by indicating that:
Already in 2014, Pardot became the Marketing Automation platform with the highest growth in the sector, tripling the number of clients acquired from other suppliers such as Hubspot or Marketo. All according to the figures provided by Datanyze.
Not only is it seamlessly integrated with Salesforce, but a process of remodeling and optimization is underway, but its integration with Salesforce is making Pardot even more powerful than it was. I was at the annual Pardot event at Dreamforce last November. Danielle Grau and Nathan Maphet (Pardot's Senior Product Managers) spoke and made it very clear: They want to make Pardot the best Marketing Automation tool.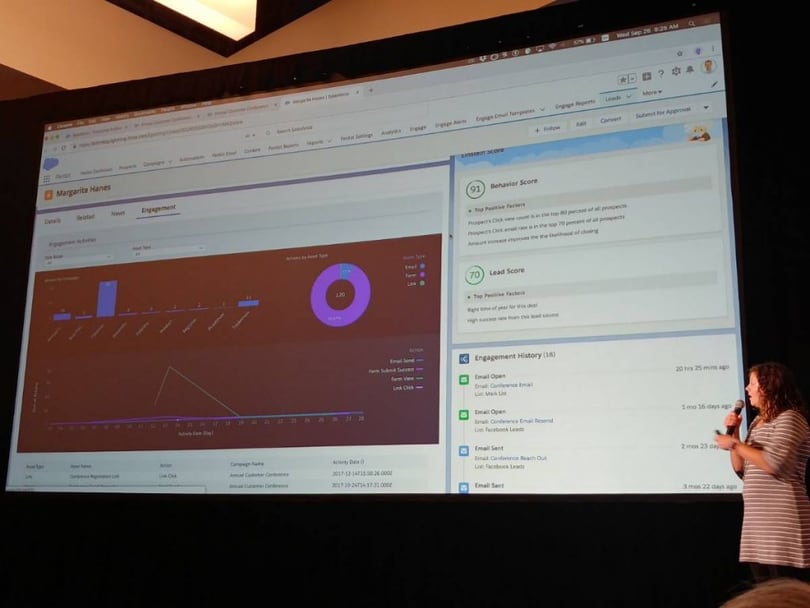 Photo by Danielle Grau at Dreamforce 2018, San Francisco
Understanding Marketing Automation
Marketing automation is a technology that automates, collects data and makes marketing and sales processes more efficient. They are evolved email marketing platforms that incorporate web activity tracking technologies, digital asset creation, process automation and communications. The beginnings of Marketing Automation date back to 2005, but it was not until 2012 that it began to be incorporated in an agile way into the business world. Currently there are dozens of solutions on the market, below we show you how to select the best solution.
Main business objectives of Marketing Automation
Marketing automation tools are focused on optimizing conversion rates, expanding sales reach and improving customer knowledge.

Conversion: Data allows for personalization and customization improves conversion.
Business Expansion: Expand the reach of the sales force without increasing commercial resources.
Customer knowledge: Predict customer behavior and needs
Digital marketing strategies based on marketing automation
The marketing automation tools are focused on working on 3 major strategic areas of digital marketing: Inbound Marketing, Account Based Marketing (ABM) and CRM Marketing.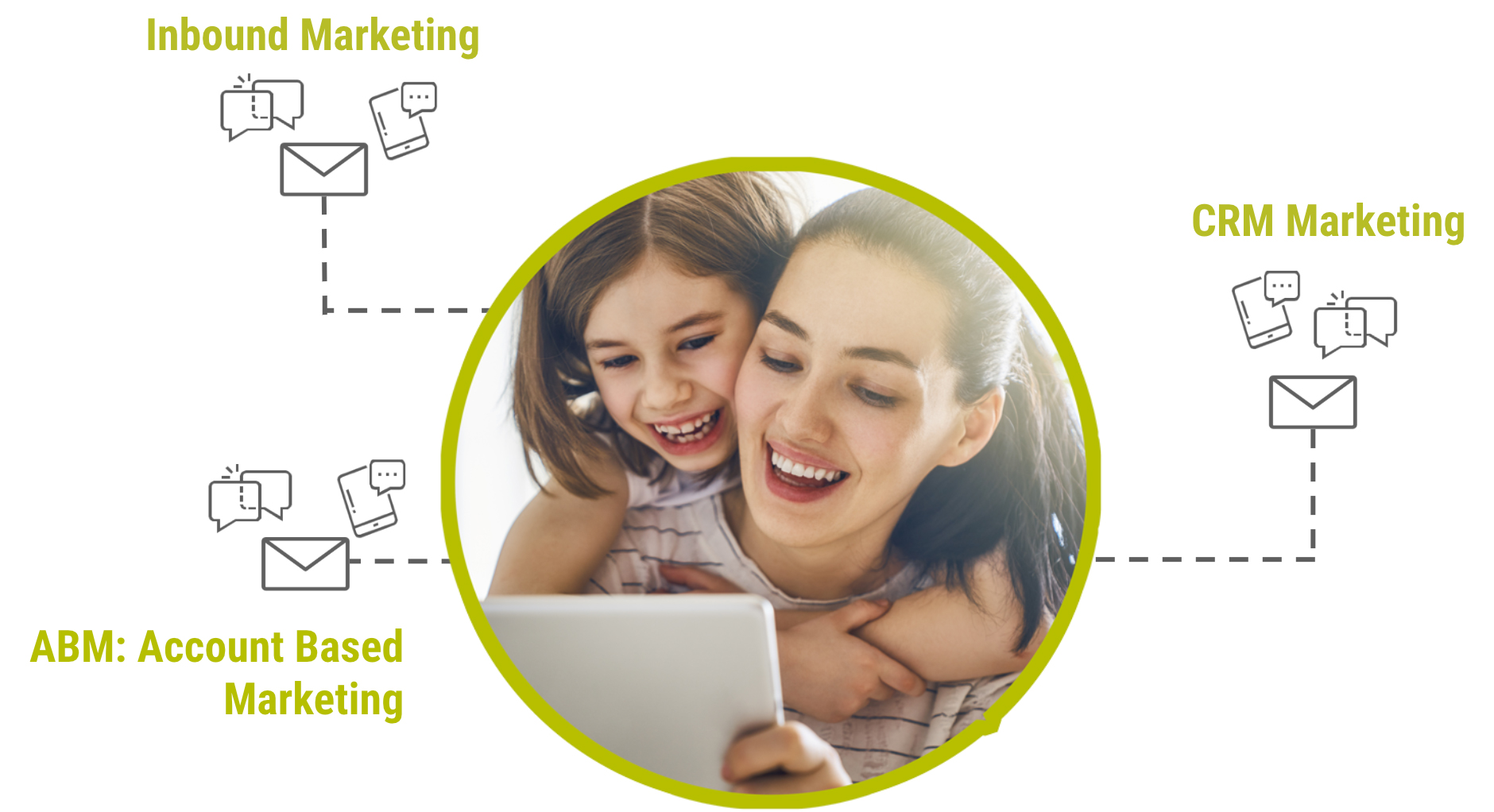 Inbound Marketing: the combination of content marketing, attraction marketing and marketing automation allows working on a methodology that focuses on attracting, converting, selling and making customers fall in love.
Account Based Marketing (ABM): working on the potential of CRM, relationship marketing and professional social networks such as LinkedIn, ABM is the strategy that best suits B2B markets and where Pardot stands out from its competitors.
CRM Marketing: data is the "gold" of the 21st century and CRM is the "data lake" of the clients. Marketing automation allows to exploit and get the maximum performance from the knowledge of the clients through cross-selling, up-selling, mgm (member get member) , commercial reactivation, renewals or relationship marketing actions.
Choosing a Marketing Automation tool
Which Marketing Automation tools can we choose for a project? Marketo, Salesforce Pardot, Marketing Cloud, Hubspot, Eloqua, IBM, Adobe, Sharpspring are some of the tools available in the market. There are multiple possibilities as we can see in the following image of ChiefMartech. As you can see, not only is there a huge range of possibilities to choose from, but the number of tools is increasing every year.

If in your company you are thinking of implementing a Marketing Automation tool, do you identify with any of these three scenarios?
| Scenario | Responsible Department |
| --- | --- |
| Are there Marketing Automation tools in other business units or group companies/departments? | Purchasing/Financial Department |
| Is there an existing agreement with the tool's provider? | Financial Department |
| Does it comply with data protection laws? Where is the data hosted? | Marketing / Legal Department |
| What kind of access security do you maintain: What happens if an employee leaves the company? | IT / HR Department |
| Are the features you offer appropriate for the campaigns we are going to carry out? | Marketing Department |
| How will you manage the sales cycle of the captured leads/opportunities? | Sales Department |
| Do you need to integrate with other databases, web or company systems? | IT Department |
| Can we operate it ourselves or do you need the support of an agency/partner? | Marketing Department |
| What costs do you have per volume of contacts/communications/features if we grow? | Financial / Marketing Department |
| Does it replace any existing system? | IT Department |
| What kind of connection do you maintain with the CRM? | CRM/IT Department |
| How will I track advertising/media campaigns? | Marketing / Recruitment/Media Department |
| What is the perspective and evolution of the provider and the tool? What do we expect to be its evolution? | Marketing Department / IT |
The complete customer experience from start to finish and its conversion into value by the company must be the final objective of every marketing department and no excuses, intermediate steps or shortcuts are valid. And to bet on Pardot is to bet on scalability, innovation and ROI.
You may be thinking that a lot of questions but little answers… It is not easy to answer, most of the solutions in the market cover most of the needs, think that in the end some are copied from others. What I can advise you is that if your CRM is Salesforce, your business model is b2b or you are working on an inbound marketing strategy, Pardot is one of the best options.
The complete integration of your Marketing Automation tools with your CRM is essential.
We at ShowerThinking only work with systems that truly integrate marketing, sales and analytical processes. Salesforce is one of the few alternatives where your recruitment process is integrated with your sales teams and measurable results can be obtained from start to finish. It's true that there are more alternatives (I certainly don't underestimate them). Everyone has to make a bet, since you can't be a specialist in everything.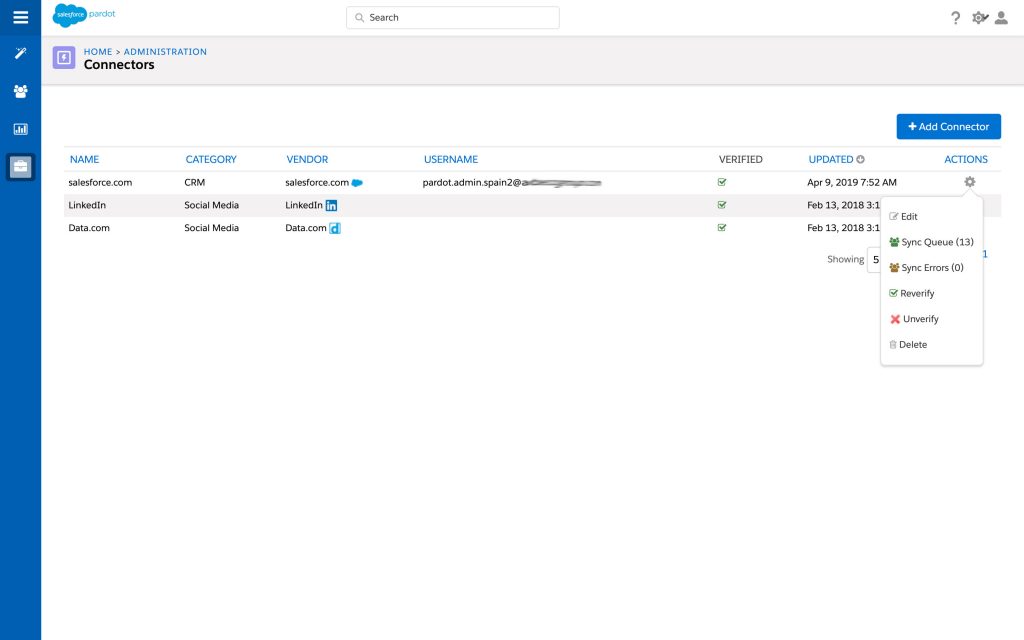 That's why I'm going to tell you more about Salesforce's Marketing Automation tool: Pardot (note: in English you'll see that it's pronounced with an accent, although in Spain it's usually marked with an a). I'll also tell you about the new changes brought by the new version of Spring 2019 (Pardot Spring 2019), including the Spanish interface (finally!).
Critical features of Pardot
Pardot has a great amount of functionalities. I am not going to tell you all of them because it is not the purpose of this article. Instead, I'm going to focus on testing:
The most relevant aspects.
The areas in improvement phase.
The new Engagement Studio.
Pardot Einstein
Lead Generation: Evolved project generation:
Creating landing pages and subscription forms has to be a fast, intuitive and customizable process. Pardot not only does not fall behind, but includes many other features such as progressive profiling, which allows you to collect new lead data in each successive interaction, simplified lead management and integration with the sales process.
Lead management: automatización, scoring and nurturing
If you are familiar with lead management, you will know how important it is that the entire process of scoring, grading, tracking and nurturing can be configured with automated flows, ensuring that the right lead reaches the salesperson at the right time.
Pardot has managed to make lead management extremely simple.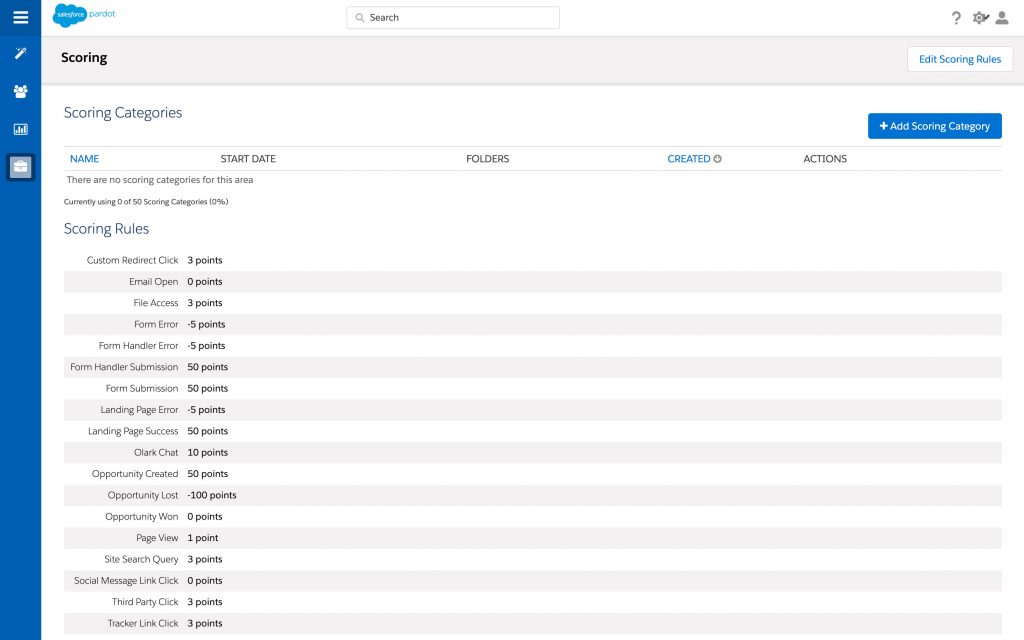 Social Media Marketing
Considering my knowledge of social networks, I have a certain predilection for Marketing Automation tools that integrate with them and allow a complete management from a single control panel.
Pardot is one of those few tools that allows you to manage all your Social Media channels from its own interface and does it spectacularly well.
Pardot Einstein: Artificial intelligence in lead capture
One of the features that was already known beforehand is the appearance in this new version of the artificial intelligence functionalities provided by Einstein. Salesforce is extending Einstein's functionalities throughout its service platform. Einstein Behaviour Scoring allows us to identify leads with a higher value depending on the behaviour of the rest of the data in our instance. Do not expect that they can be customized and configured in this first version, but at least it is an interesting step to take into account.
Einstein Campaign insights offers us information that the system considers relevant about how the campaigns that are being executed on Pardot are working.
One point to take into account is that we must carry out a correct structure and planning of campaigns in order to take advantage of all these features.
Measuring results and ROI
One of the big problems in the world of digital marketing -and marketing in general- has been to measure ROI, which has been a constant cause of discussions between marketing and sales.
Thanks to Pardot's analyses, the marketing team can finally discover the real return that is being obtained with the published campaigns and contents. A key factor to consider is using Pardot's salesforce campaigns and performing full traceability of sales processes.
For content marketing lovers, the Spring19 version will also feature Engagement metrics on the contents of our marketing program. By the way, Pardot also integrates seamlessly with Google Adwords to measure the ROI of SEM campaigns. This is one more in the growing list of integrations with external services.
First class email marketing
Creating email campaigns with Pardot is not only a very intuitive exercise, but its automation, customization capabilities and, above all, optimization tools make it a first class tool. Really the great potential that you have to analyze is the possibility of personalizing content based on all the data that you have in Salesforce about your clients or leads.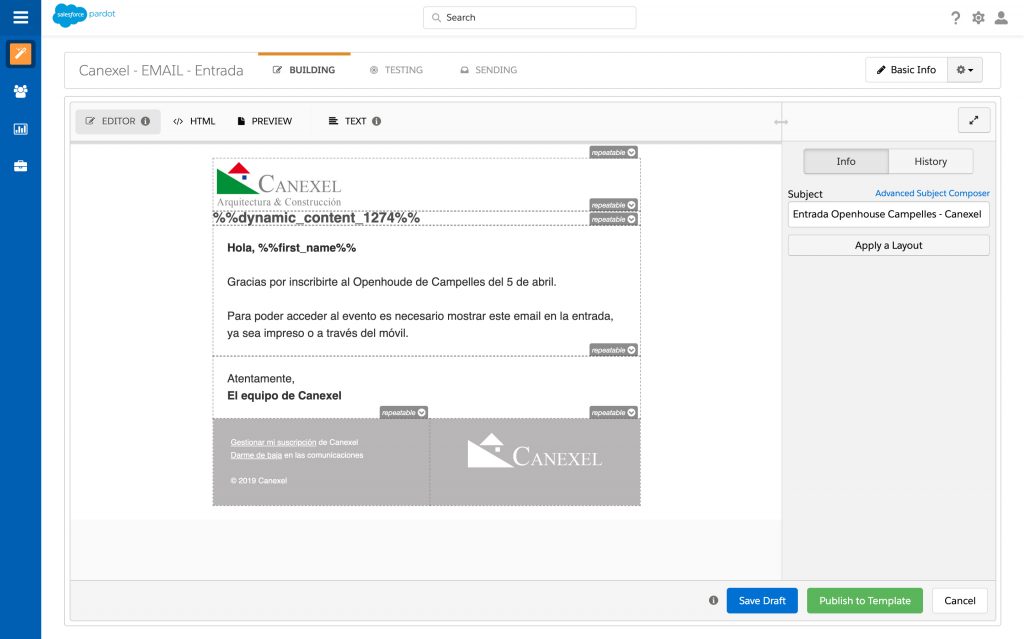 Salesforce-Pardot setup assistant
What if our marketing automation tool and CRM were to be integrated automatically? It may not be far off, but it's the direction in which Salesforce is moving. It's getting easier and easier to set up and synchronize data.
And with Pardot's lightning-fast interface, it's getting easier to operate the tool within Salesforce without having to change environments.
Marketing and sales alignment
Unlike other email marketing and marketing automation tools, Pardot manages to perfectly bring together and synchronize the marketing and sales departments.
Nothing else could be expected from the market-leading CRM marketing automation platform.
Pardot takes Sales Enablement to another dimension.
Tracking of lead activity, real-time alerts or the ability for sales to send pre-designed marketing campaigns to their clients are just a few examples of its major advantages.
The areas of improvement that have been corrected
Visual Interface
For a while, Pardot's interface received some criticism. It was not intuitive enough, considering its multiple functionalities. Salesforce has not only corrected this problem, but has probably transformed Pardot's interface into one of the most visual and understandable panels on the market.
Limited integrations
The number of integrations with third party applications is constantly growing. But don't forget that your integration with Salesforce is seamless-something that's only within the reach of this CRM's darling.
Price of entry
Pardot is not a tool for small businesses. That is indisputable.
This advanced software is designed for those SMEs and large companies that have a high turnover, especially if they work in the B2B sector.
And then came Engagement Studio
The recently launched Engagement Studio is a new dimension of lead management and nurturing. Thanks to this visual platform, the marketing team can build, test and optimize flows – called Engagement Programs – in order to ensure the highest possible accuracy in obtaining qualified leads.
The Engagement Programs allow for the sending of personalized emails, based on the behavior of the customer in real time and the scoring they have. The result, of course, is that conversion rates soar.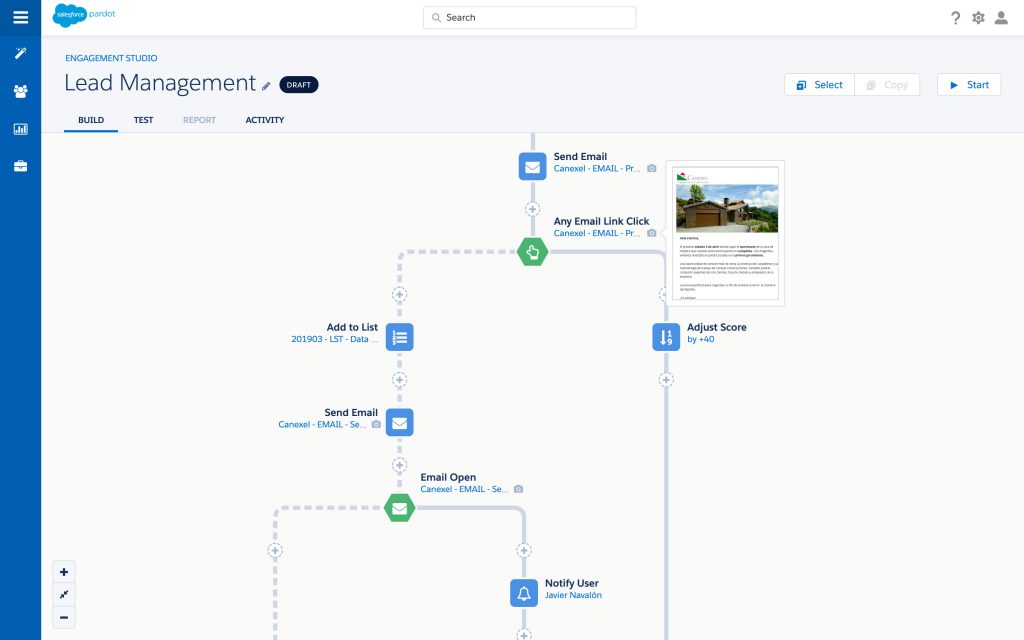 In conclusion
We are in a particularly interesting moment in which Marketing departments need to know more and more about technology. With the implementation of a Marketing Automation tool, we will optimize the customer experience as well as improve the internal efficiency of the company.
The continuous improvements, the launch of new modules and features, and the seamless integration with Salesforce CRM are clear signs of what's to come. At the agency, we believe that Salesforce is one of the few alternatives where your recruitment process is integrated with your sales teams and where measurable results can be achieved from start to finish.
Finally, we have to answer the question with which we started the article, of which I want to give you my personal opinion: depending on the focus of your marketing project you should make your decision. If your marketing project requires sending personalized information to potential customers, almost any tool can serve that purpose.
If your project requires a good coordination with sales teams, lead management, opportunity management, in this case Pardot starts to differentiate itself positively from the competition.
In those projects where you want to take full advantage of your contact database, customer loyalty projects, reactivation, etc., Pardot and its integration with Salesforce becomes a practically unique tool.
There's no doubt that Salesforce has made a strong commitment to making Pardot the perfect Marketing Automation tool, it remains to be seen if it's useful in your project.