Salesforce certifications, and how to get them, are one of the most frequently asked questions by my students. I'm currently studying my eleventh certification on the platform, and after getting certified as an architect, I think it's a good time to offer my point of view and help if you're trying to get certified in Salesforce, or have questions about how it works.
At my students' request, I'm including below a guide to which certifications are harder to get or which ones are aimed at sales/marketing/managers or programmers. If you have already been certified in one of these, I would love for you to share your opinion and personal experience.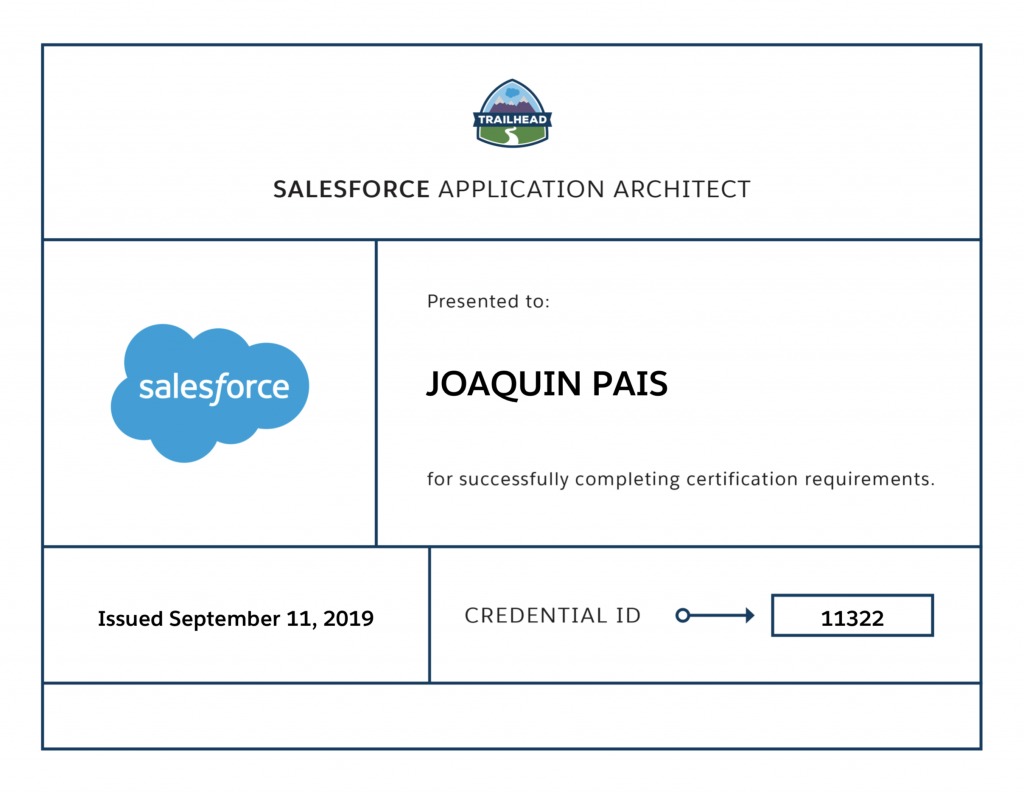 Despite many years of working at Salesforce, I hadn't considered getting certified. The truth is that I couldn't find the reason to invest so much time or the sense to obtain it: after all, I was already working on projects that require continuous training.
My opinion changed little by little, when I realized the value a certification brings, to me personally and to other professionals in my environment.
Obtaining a certification is often a source of pride for many professionals. It is difficult not to be infected by everyone's enthusiasm and desire to improve. At an international level you can follow the hashtag #SalesforceCerts and you will see how it is celebrated every time a user achieves a new goal. It's part of the collaborative culture and atmosphere at Salesforce, with its great family #Ohana.
Another issue that has also changed my impression over time is the experience that the certifications themselves can bring you. Some of them, I consider them as small jewels of the formation. You can see the care and detail that has been put into them. They allow you to learn from real cases and environments in which you have not yet worked. In fact over time you will see that many questions are extracted from real support cases that users make.
What demand for employment really exists?
But let's get to the heart of the matter: Does a certification serve to improve your career? The answer can't be other than a resounding yes. As you will see in the image below, it is estimated that up to 3.3 million jobs will be created around the platform. It is true that there are no miracles in this life and everything is done on an effort basis, but it is true that including your certification in your LinkedIn profile is one of the safest ways for a Headhunter to call you offering a change in your job. If you are already working, it is a way to demonstrate your knowledge of the platform in your company and to add value to your job.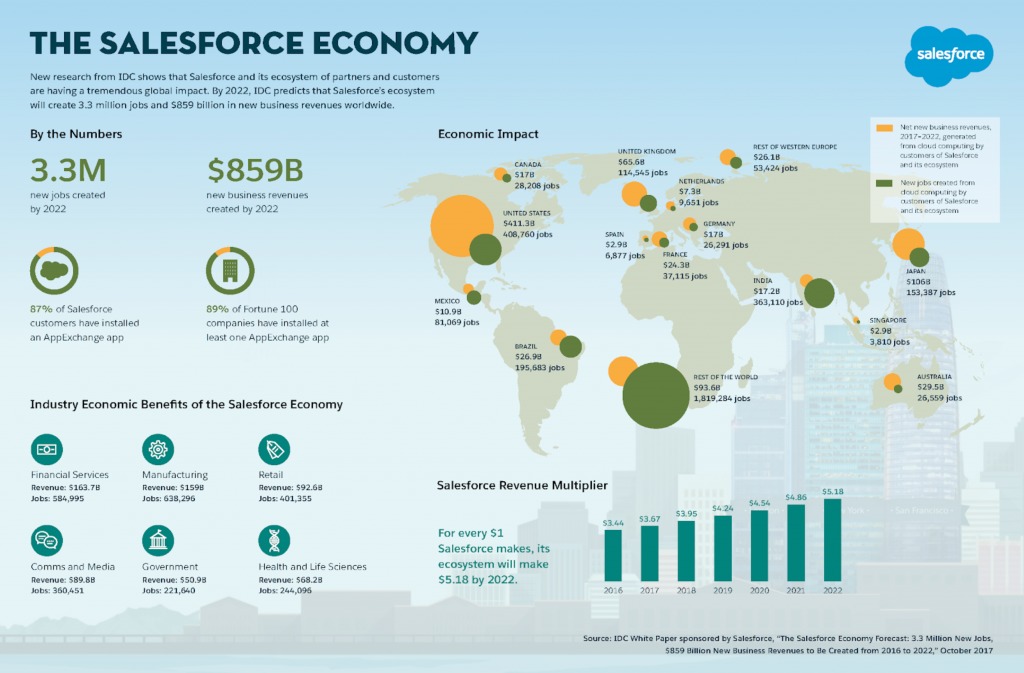 However, my recommendation is that you do not let yourself be carried away by the current peak in demand for professionals in the Salesforce environment. Think that this is a very important investment in time and decide to work in an area that you really like (Salesforce has many).
What is the most appropriate certification for my profile and where should I start?
I will leave you with my personal opinion, since you will probably have to invest a great deal of time in this training. From my point of view, if you have decided to fight for certification, some will be easier than others depending on your profile.
Many people think that the basic certification you should start with is Salesforce Certified Administrator, but Salesforce itself does not propose any of these as a starting point. In fact, from my point of view, administrator training is relatively difficult to achieve and is one of the most frustrating for new students.
For this certification, a previous experience of at least one year in the platform is recommended, but I think that the more technical profiles (IT, Computer Science) or at least if you like some programming have a very important advantage. After all, Salesforce is built on a relational database. I don't mean that you will need to answer questions about programming in this exam, but I do think that those people with basic computer/programming knowledge have a certain advantage, since many concepts (e.g. security) will be familiar to them. In short, if you dare with technology you can start with this training which is the basis of the platform. If you have already worked with other CRMs, this is undoubtedly your starting point.
If you have a Marketing background I suggest that instead of starting with the Administrator exam, you start with the Marketing area (Pardot Specialist, Marketing Cloud Specialist or Marketing Cloud Social Specialist). They are much more akin to the day-to-day work of Marketing and there will be many elements that will ring a bell (landing pages, contact forms, etc).
If your work is related to data analysis and you already have previous experience on the Salesforce Certified Einstein Analytics and Discovery Consultant platform, this is a specialized certification in this field.
If you have experience as a programmer and especially if you have programmed in java, do not think about it, Platform Developer I is your goal.
In what type of company or department will I end up working with these degrees?
This is an extremely important point since there is a great difference in the type of professional profiles sought by different companies and departments.
We're going to talk first about the companies that use Salesforce, the so-called end customers of the technology, and then about the partners.
Normally the profiles of Marketing Cloud Email Specialist, Pardot Specialist and in some cases Marketing Cloud Consultant are usually hired within the marketing departments of companies. However profiles such as Marketing Cloud Administrator or Marketing Cloud developer (with exceptions of course) are usually hired by IT departments. There is no rule written in stone, but there is a strong tendency for the more technical profiles to be hired by systems or technology departments. You must take this into account to know how you want to evolve professionally.
If we're talking about IT consultants or marketing agencies (salesforce partners), things change a lot here. In fact, the profiles are more varied, you could work in the account department, digital creation, implementation/operations or technical support. The Marketing Cloud Consultant profile usually has a more direct relationship with the customer (depending on their years of experience) and the developer profile is usually linked to more technical departments. It will depend in many cases on the size of the agency or consultancy and its involvement as a Salesforce partner, but you can be in almost any related department.
How many years of experience do I need?
Depending on the profile, a different experience is needed. As in many jobs, my recommendation is that after getting your certification you try to get practical experience in a company. Specialist profiles should have appropriate work experience from 1 year of experience, especially if you are facing multiple campaigns with different typologies. A consultant profile needs the experience of several years and several implementations of the Marketing Cloud behind them (in the exam documentation they recommend 4 to 6 implementations before presenting themselves as a consultant). As for the developers, it will depend on the complexity of the project where you are involved, many times they work with senior profiles along with more junior profiles to complete their training.
What kind of certifications are there?
Currently there are 3 levels (from lower to higher difficulty) of certificates in the platform: (Administrators, Specialists and Programmers), Consultants and Architects.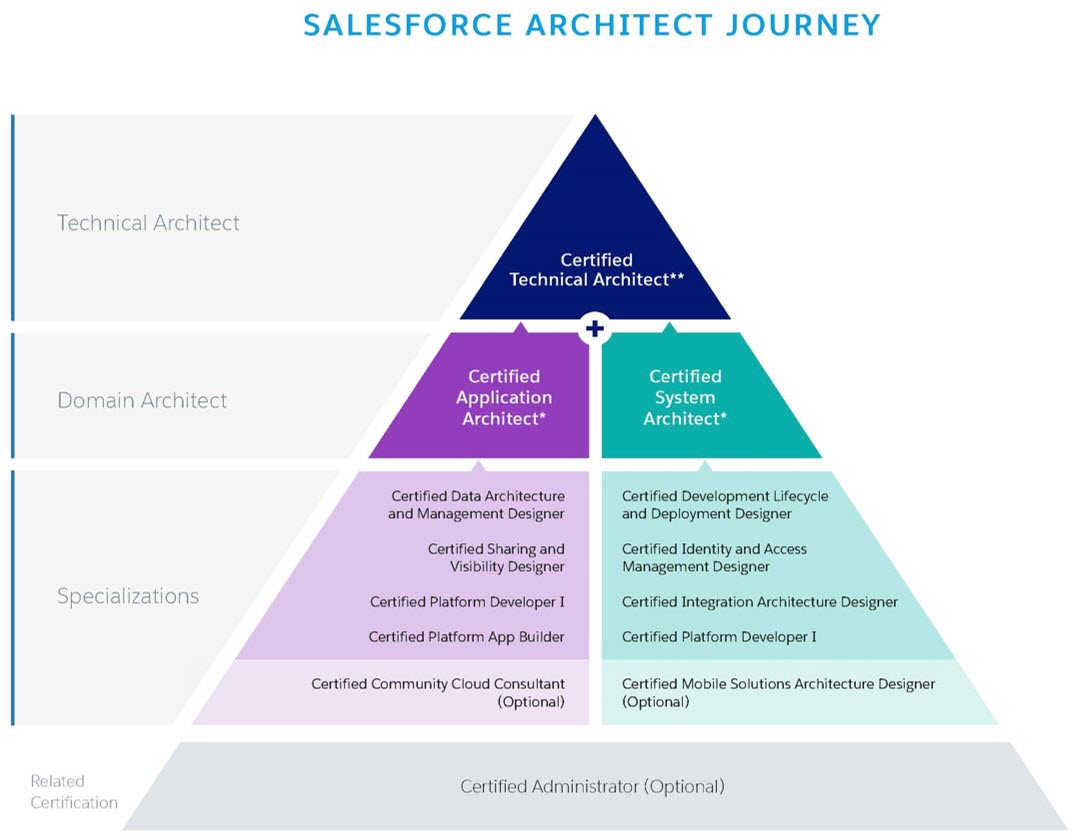 The specialist and administrator exams are an introduction to the platform, for example Marketing Cloud Email Specialist, Marketing Cloud Social Specialist or Pardot Specialist.
The developer exams are oriented to the more technical profiles and programmers in particular.
Consultant profiles are some of the most complicated to achieve. According to my own experience, besides having multiple projects on Marketing Cloud, the Marketing Cloud Certified Consultant certification is one of the most complicated on the platform. It is not uncommon to have a 6 month preparation for this exam if you already have in your backpack an experience with the installation of 4/5 projects in Marketing Cloud.
The architect profiles (I'm talking to you with the only experience of having passed one and preparing a second one) are another matter. They make sense if you're professionally very involved and need a few hours of preparation, practice and hard work. But at the same time, you discover new areas of the platform that you may not have known existed.
At the top of the pyramid is the Technical Architect certification where you must present yourself before a committee of professionals who will evaluate you in person.
Are they really that hard to get?
I'm not going to lie to you: the level of difficulty is quite high for any of them. They are meticulously thought out so that you don't pass them without very good preparation. Think that Salesforce trusts certified professionals and they are part of your company's image. In short, you take care of the details and need to guarantee yourself a minimum level of knowledge.
I assure you that multiple questions, (where many times all of them are possible) need you to have prepared yourself thoroughly. To give you an idea, I check how many of my students take about 4 months (in some cases more) to prepare for a basic certification.
Here is a guide to the difficulty you can expect in each certification.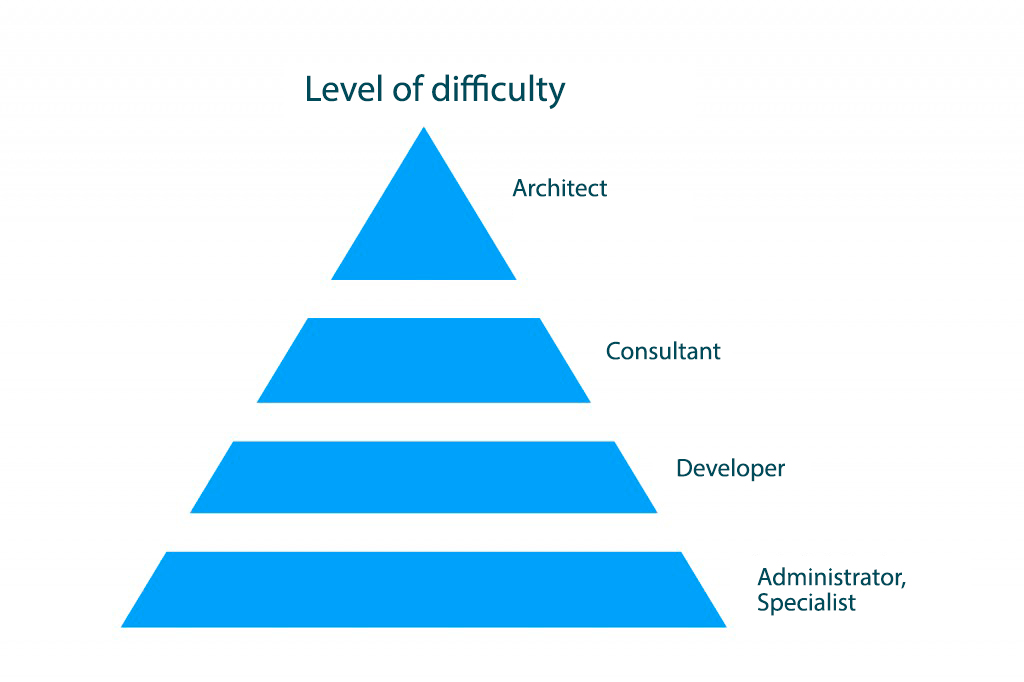 Otherwise, to better understand the difficulty of the certifications, if we relate it to snow slopes, we would find this classification, where the exams of Pardot Specialist, Marketing Cloud Email Specialist and App Builder would be the most affordable to start getting certified: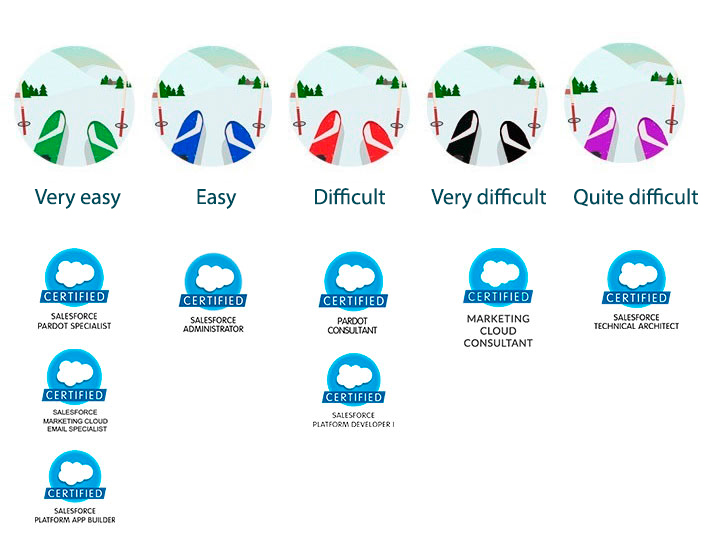 How is the exam?
You can take the exam from home online or at an authorized center in your city. The exam is made up of 65 questions that appear on the computer with a limited time (from 95 in the basic certificates to 105 minutes or more for the architect's ones). Many of them require multiple answers (answering which of the 2 or 3 options you are presented with are correct) but simple answers are not the easiest either, since it is usually difficult to differentiate between the correct option and you must know the subject in detail.
Be prepared to be calm, impatience is bad advice. Many of the questions are several paragraphs long and you need to read them in detail in order to answer correctly. After more than an hour it is difficult to maintain your concentration, so getting used to the idea that you must keep up and know how to keep your strength is the best strategy.
Personally I always make a quick answer to the questions I am sure of and leave for a second review all the doubtful ones. This saves me time, especially in the advanced exams where there is a lot to read.
How to prepare for certification
The suggestion I make to everyone is to open a free Salesforce account (you can do it at https://developers.salesforce.com/signup) and practice with the platform. You'll learn in detail how to work and you'll be able to familiarize yourself with the environment.
The Trailhead training platform, is from my point of view one of the best on the market. It is also free. Each certificate has its Trailmix (set of recommended modules) that you can complete before taking the exam.
Trailhead allows you to start from scratch and advance in your knowledge through different Routes, Modules and Projects.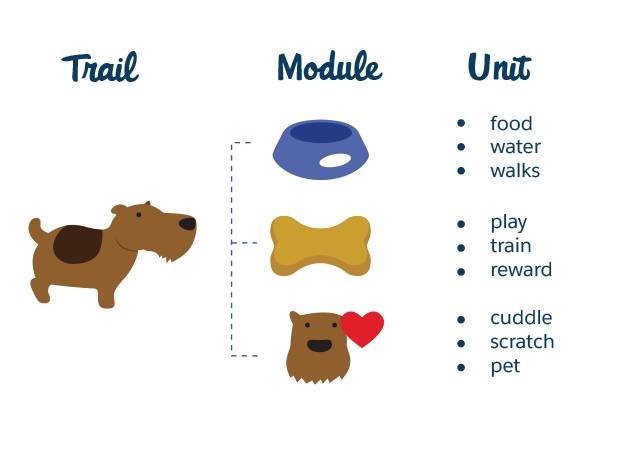 In ShowerThinking we have certification courses for Marketing Cloud and Pardot that we give both personally and as training for companies that have just implemented Salesforce in their CRM and do not know how to start. We also teach at ICEMD the Higher Program course in CRM and Marketing Automation.
If you want to give it a boost there are preparation courses given by Salesforce itself or by related companies. For example in ShowerThinking we teach in ESIC, the Higher Program in Marketing about Salesforce that help you in the basic certification.
How much does the exam and renewals cost?
The exams have a cost of 200 Euros (200$ in the United States) and you will have to pay them by credit card within trailhead. If you fail the exam you can take it as many times as you want but it costs 100 ? (100 ? in the United States).
Only in some events you will be able to get a discount. For example at Dreamforce (an event held annually in San Francisco) the cost is reduced by 50% for everyone who wants to take the exam ($100).
Architectural exams cost $484.
Do I take the test online or at a test center?
I recommend my students to take the first exam at a certified center in your city. Both options cost exactly the same but it is easy to get involved with the technical requirements for the exam.
You need to have an external webcam in addition to your laptop that you use that can focus on your entire environment in the room you are in (they will be watching you to make sure you don't copy).
You will not be able to have a clock, phone, papers or devices on the table.
The exams I have done from home always end up with a reviewer calling me from India (where they have the support center) and asking me to focus the camera on different parts of the room, asking me to show her the glasses, etc.
It's not annoying, but it takes my mind off the exam. In some cases they have heard some noise from the children at home and have called me to verify that there was no one in the room talking to me: in short, a bit of a mess for the first time.
How much does a Salesforce Certified Professional charge?
And finally the question of the century: How much does a Salesforce professional charge today? According to this information, a Salesforce professional with 2-5 years of experience charges $90,275. We have to take into account the exchange rate to Euros and the variation in salaries between your country and the United States (which will probably be less).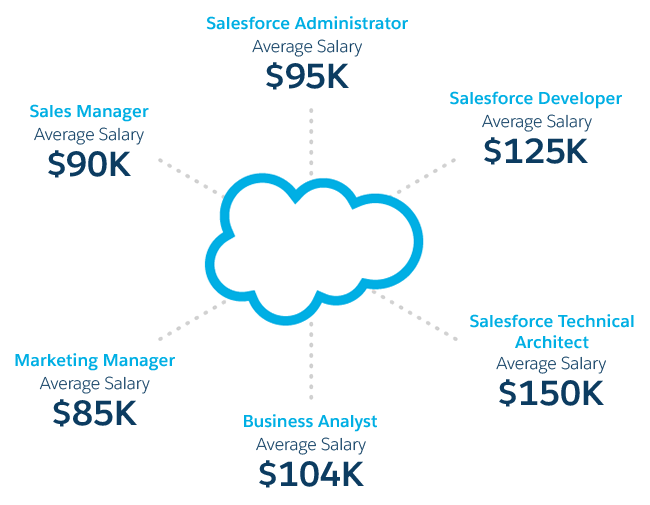 Depending on the size of the company that hires you, if it is an international company and the years of experience obviously correct the above figure upwards or downwards.
I hope this information has been useful to you and has motivated you to improve your training. I hope to receive your comments and questions in this post.