As is the case with Email Studio, there is currently an infinite number of tools focused on Email Marketing, but year after year we are witnessing an evolution of these types of tools towards Digital Marketing Hubs that allow us to manage not only Email Marketing but also other types of actions such as the management of Social Networks.
Within this type of platform, there is the Salesforce Marketing Cloud, one of the Digital Marketing Hubs par excellence with a powerful Email Marketing module called Email Studio. If you still don't know what Marketing Cloud is and would like to find out more about this platform, we invite you to read the following article to find out what Marketing Cloud is? The Salesforce Digital Marketing Hub.
Email Studio What is it?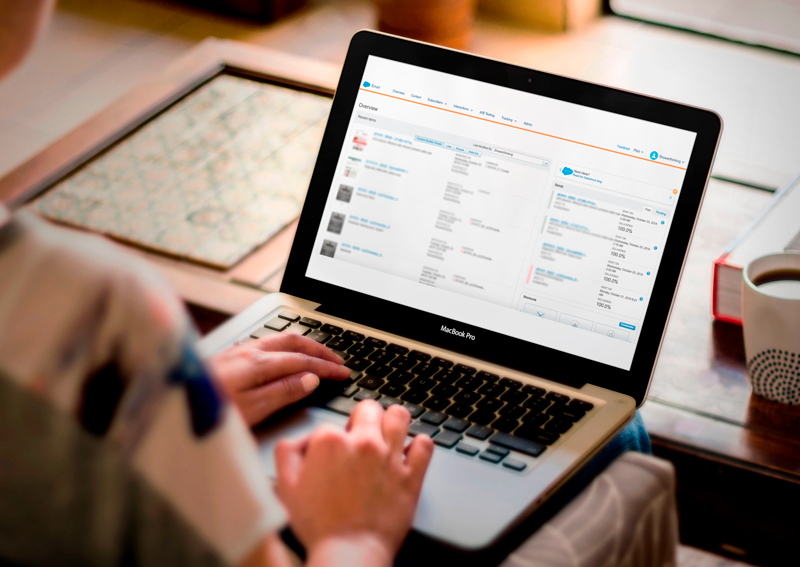 It could be said that Email Studio is one of the most complete email marketing tools on the market and one of the most important modules within Marketing Cloud, as it is the module in which all types of activity with our subscribers is managed through the email channel.
In Email Studio, we can create all kinds of Emails (from scratch or through pre-defined or self-created templates), manage the uploading of contacts and subscribers, perform A/B tests on our sends, configure advanced sending options, perform reports and view metrics of our sends, etc.
Possibilities with Email Studio
Email Studio allows for an infinite number of possibilities, among which the following should be highlighted:
Content creation: within Email Studio we have the ability to create emails through blocks of content or pre-defined Marketing Cloud templates. The customization that can be made in emails is very extensive and can also include dynamic content that responds to parameters included in lists of subscribers or data extensions.
Subscriber management: the use of subscriber lists or data extensions is essential when sending emails in the Marketing Cloud. Therefore, within Email Studio there is an extensive menu in which you can see data on data extensions, subscriber lists, shared elements, profile and preference management, data filters, etc. If you already know more about this type of process, we recommend you take a look at the following article to find out when to use a Data Extension or a subscriber list in the Marketing Cloud.
Campaign automation: through Automation Studio you can create workflows that allow you to create automated email marketing campaigns, in addition to many other features that this module has.
Monitoring and optimization: Email Studio offers a range of interesting metrics and reports to track the performance of our emails. These types of reports offer metrics such as deliverability rate (delivery rate), number of bounces (with their reasons and classification), number of openings and clicks (both total and unique), CTRs, open rates, etc. It also offers an interesting visual module in which you can see the performance of users in the different clickable modules in percentages. All this data can be downloaded in PDF format to identify individually the performance of each subscriber.
In addition to all this, Email Studio is connected to the different modules/apps of the Marketing Cloud, so it can be used to make journeys through the sending of emails (in Journey Builder), it can be connected to the different lists of subscribers or data extensions (created in Contact Builder) or it can be used to make different reports and automated programs as already seen (in Automation Studio).
Take a look at the following video to see an overview of the possibilities offered by Email Studio:
Types of emails we can send with Email Studio
Through Email Studio's Email Builder, we can create any kind of email, as there are infinite possibilities and everything can be done from scratch. But speaking of typologies when it comes to sending emails, there are three clearly defined types:
Transactional emails: this category includes all the emails that have to do with the transactional or purchase process of a product/service, such as purchase confirmations, emails relating to shipping notifications, product/service tracking emails, etc.
Promotional emails: here however we refer to any type of email related to promotions, such as newsletters, sending of promotions, events, discounts and coupons, loyalty programs, etc.
E-commerce emails: within this category, we can see examples of what large companies such as Amazon or Ebay do, as they send emails about recommended offers, abandoned shopping carts, order confirmations, post-purchase product assessment, etc.
Benefits of Email Studio for your company

In general, if your company uses the Marketing Cloud, it has already gained a series of advantages over companies that use other types of Marketing Automation platforms, as the Marketing Cloud is one of the most complete platforms on the market. But specifically, Email Studio, although it is a part of this great platform, offers many advantages to be highlighted once it starts to be used. Some of these advantages are:
Ease of use: Email Studio does not require in-depth knowledge of code when creating content, as its Drag-and-Drop interface allows the creation of emails of all types through simple or dynamic blocks (although it is always advisable to have a minimum knowledge of HTML code in case problems arise when creating content).
Connection with other modules and reduction of process complexity: Marketing Cloud combines different modules that complement each other, so that when working in Email Studio we can use different modules to complement our Email Marketing strategy, performing for example journeys based on user activity, automation, segmented, dynamic sending, etc.
Predictive Intelligence: Marketing Cloud includes the Einstein AI functionality through which companies can use their customer information to provide content based on the previous behavior of the same. This is also the case with Email Studio when offering dynamic content, A/B testing, or, for example, carrying out a journey by segmenting the sending of several emails depending on the number of user clicks.
Email sending security: Apart from being able to make the necessary configurations in terms of profiles and preferences for sending emails, we can segment our sendings and carry out as many test or trial sendings as we need, as well as add and delete users when sending emails based on data extensions or subscriber lists (both inclusion and exclusion).
Optimization of content and improvement of ROI: Through Email Studio, any sending or action we take is measurable, both generally and individually, so the greater knowledge and possibility of connection with big data tools such as Tableau or Einstein Analytics, we have greater possibility of optimizing our content and actions and impact directly on the ROI of our company.
In short, Email Studio is a module to be taken into account within the Marketing Cloud, as it is one of the most important, allowing you to carry out an infinite number of actions and allowing you to be aware of other modules thanks to its close relationship in other processes with them.
Although Email Studio requires a great deal of knowledge and implementation in order to fully exploit its functionalities and take advantage of all the benefits it offers, at ShowerThinking we specialize in developing automation and marketing management programs with your company through the Marketing Cloud. Therefore, if you need help or training in Marketing Cloud  we have the right team that can help you, so don't hesitate to contact us!