Marketing Cloud is a trend, if you are reading this article it is because you have surely heard the potential of this platform developed by Salesforce. But do you really know what Marketing Cloud is? In the digital world there is a lot of confusion when it comes to cataloging different technologies, although Marketing Cloud has some similarities with marketing automation tools, it really isn't, it is what is currently called Digital Marketing Hub.
What is the difference between Marketing Automation nd Digital Marketing Hub?
As we have seen, both technologies share many similarities, however they are different. Both start from the most basic concept of email marketing, but each has evolved differently. While in marketing automation we always talk about tools, in Digital Marketing Hub we have to talk about a platform. This difference is due to the fact that marketing automation tools are closed solutions that do not require technical development and digital marketing hub platforms are unfinished technologies that require development to start operating.
Another big difference is the business objective of each of them, while marketing automation tools are focused on B2B business models, digital marketing hub platforms are optimized for B2C models. This approach is found in Salesforce, while Pardot is the marketing automation tool, Marketing Cloud is the digital marketing hub platform. Following the examples of Salesforce, in Pardot we find lead generation, lead management and sales aligment functionalities that are not developed in a standard way in Marketing Cloud. However, in Marketing Cloud we can work with many more channels that in Pardot you don't find like SMS, mobile or Advertising. Besides being much more powerful in the area of Social Media.
Finally, the big difference also lies in the data management and volume of data. While Pardot is a tool to work with reduced data sizes (less than one million records), Marketing Cloud is a platform to support much more customer data.
If you want to know more about Marketing Cloud continue reading this article, if you want more information about Pardot you can find it at Is Pardot the best Marketing Automation tool for B2B?
Marketing Cloud History
Although Salesforce took its first steps in developing a Social Media Marketing suite, it wasn't until 2011-2012 that it made a strong commitment to digital marketing with the purchase of ExactTarget for $2.5 billion (U.S.) and Radian6 for $376 million. With ExactTarget, he not only acquired the leading platform for mass emailing, but also "bounced" to another set of tools that months earlier ExactTarget had purchased, these were Pardot, CoTweet, iGoDigital and Keymail Marketing. On the other hand, Radian6 positioned Salesforce as a leader in social listening, a positioning that it complemented with the purchase in 2012 of Buddy Media, providing all the social media management functionalities.
Over the last few years, Salesforce has faced the challenge of integrating all these acquisitions under a single platform, which it called the Marketing Cloud. It has also incorporated new acquisitions that have positioned it as the leading customer management platform. Here we find Krux (data management platform or DMP) and Datorama (marketing analysis platform).
The history of Marketing Cloud is key to better understand this platform, since the history of acquisitions is at the same time one of the main disadvantages and virtues of Marketing Cloud. It has all the needs of a marketing department, from advertising, email marketing, mobile the journeys or analytics, and even its own DMP but at the same time makes it complex to operate by non-specialized teams.
Marketing Cloud Features
Why use Marketing Cloud in a marketing project? The main feature is that centralizing communications with customers over multiple channels. Different studies indicate that the value of a company that offers a diversification of channels is greater than that related by traditional means.
In addition, the Marketing Cloud is a platform that allows us to develop a personalized digital experience with our customers. Up to 86% of buyers will pay more if they receive a better customer experience, but only 1% of customers think their salesperson meets their expectations. Improving the customer experience allows companies to better understand and adapt to the ever-changing expectations of their customers.
How does Marketing Cloud work?
Marketing Cloud is a platform composed of several subclouds, if we start with the most basic we find Email Studio, Mobile Studio, Social Studio and Advertising Studio that allow working multichannel communications with customers through different digital channels. But the great value of Marketing Cloud lies in combining the full potential of customer data collection with the automation of communications on any channel, for this we find other subclouds that have allowed to work this omnicanality, here we find Contact Builder, Joruney Builder, Automation Studio, Analytics Studio, Salesforce DPM or Audience Studio and Interaction Studio.
This is one of the most powerful email marketing platform in the market, usually marketing teams are used to working with email marketing solutions and not platforms, at this point it is worth clarifying again what the difference between the two concepts is. While a solution is a completely finished software and only requires small configurations to start operating, a platform is a set of tools that offer the ability to customize even the smallest detail of the processes of a company. There are several advantages when working on a platform like Email Studio:
Scalability, allows working with a high performance on databases of millions of records.
Control, in Marketing Cloud you work on your own IP, unlike more traditional email marketing solutions that work on shared IPs.
Data processing, in addition to working on conventional email marketing lists, incorporates all the power of data extensions, automation study, etc.
Integration, all the ETL part of Marketing Cloud allows working almost any customization of marketing or business processes, as well as incorporating on the platform all transnational processes.
If you are interested in knowing everything that offers this subcloud within the Marketing Cloud, visit the following article: Email Studio in Marketing Cloud: What is it and what it offers.
In addition, Email Studio incorporates very advanced tools for the layout and composition of emails, which are part of the Content Builder, the Marketing Cloud content management solution. A tool designed for large corporations that require a highly structured organization where collaboration and security of publications and content prevails.
Without a doubt the dream of many marketing teams, to connect CRM data with different digital advertising platforms. Advertising Studio is the perfect tool to generate campaigns and customer joruneys omnicanal. It enhances the possibilities of any marketing team by improving the processes of acquisition, reactivation and loyalty. Work your own databases with the most powerful digital channels: Facebook, Instagram, Twitter, Google, LinkedIn and Youtube.
It allows to connect with customers through mobile messages. On a single platform you can send SMS, push notifications and chat through chat applications. It improves the customer experience and offers real-time communications, from product delivery notifications to meeting reminders or SMS marketing campaigns. It also incorporates the technology needed to perform Geofancing or Proximity Marketing actions.
The perfect solution for generating personalized experiences through social channels, connecting CRM, customer care and marketing data. The social listening tool allows you to know what they are saying in social networks about your brand or your competitors, analyzing their feelings and locating where the conversations are happening. In addition, it allows you to work on social contingency plans in real time, allowing you to talk to customers about social channels or activate processes for incident management and customer service. It also incorporates Social Media Management functionalities, allowing you to manage the publications of your social channels through the Marketing Cloud. And all under the content management potential of Content Builder and the possibilities it offers to improve dissemination through paid media campaigns.
If you want to discover more about Social Studio, we recommend you to visit the following article: Social Studio: More than a Social Networking Manager
Contact Builder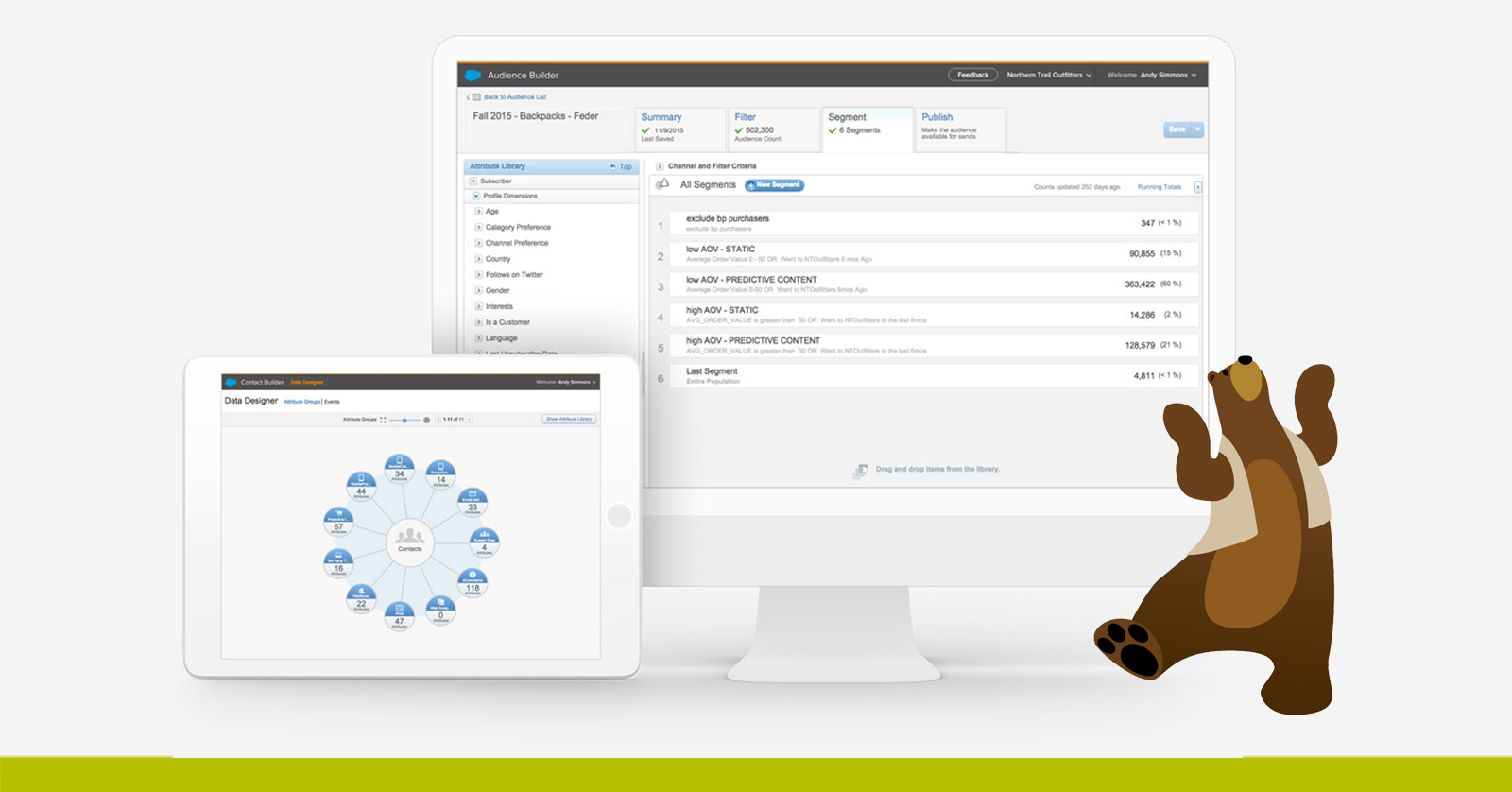 Marketing Cloud is a tool that collects data from multiple sources:
External data, from a point of sale (physical store) to an ERP.
CRM or loyalty databases, such as Salesforce.
It is also capable of managing data from digital channels: behavior in social networks, advertising campaigns or web activity.
In short, it is a tool that can function as a data warehouse and integrates all customer data in one place. This first part of the tool is called Contact Builder and works as a database that aggregates the different data relating them to our customers.
Marketing Cloud can be a formula one of marketing but its fuel is the customer data. Having an adequate data capture and organization plan is one of the most important elements to take advantage of this tool.
Journey Builder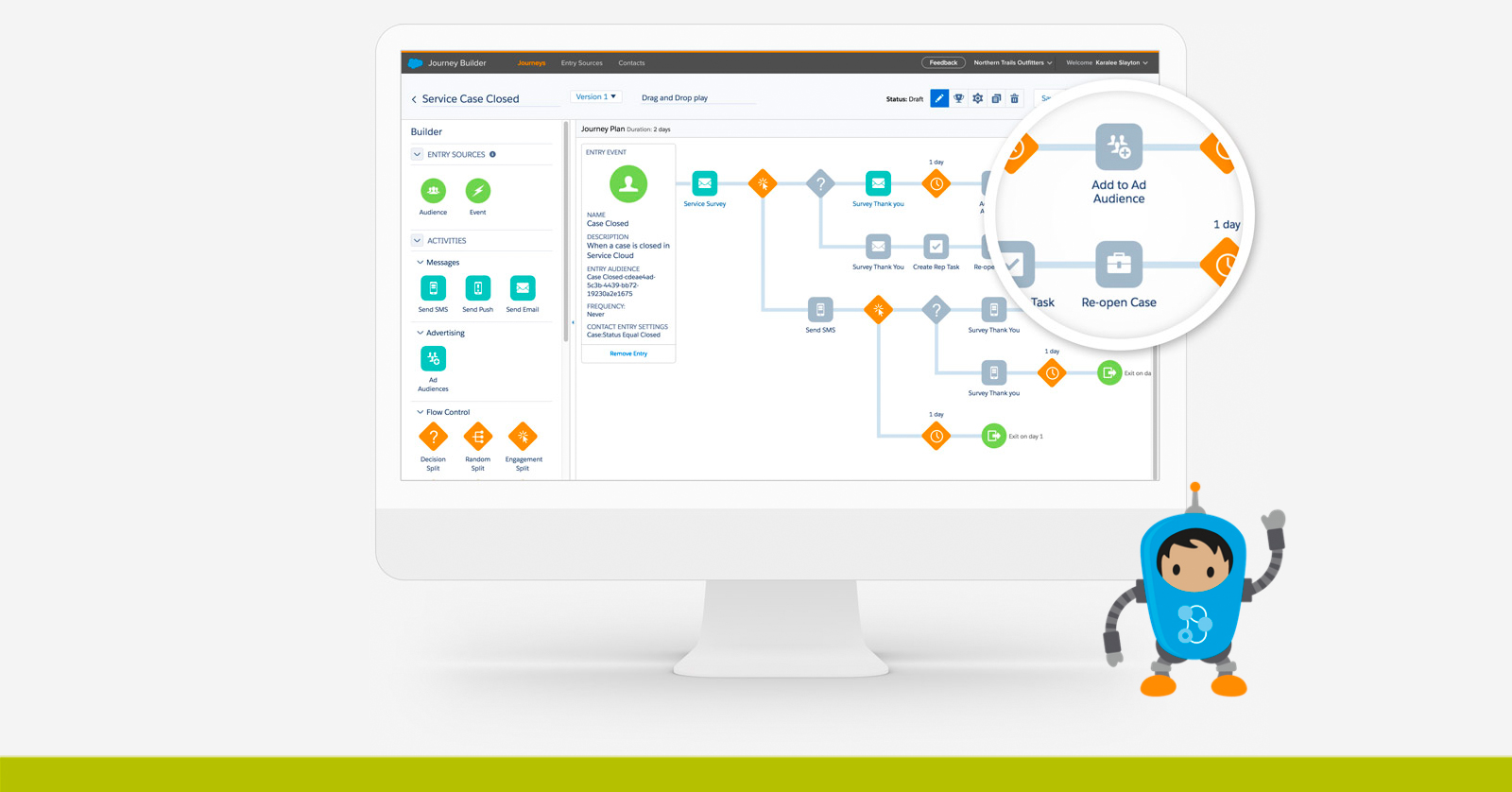 The second part of the tool is the core or brain where the communication flows with the customers are programmed, using all the channels offered by the Marketing Cloud. All this is best understood with an example: a company sends an invitation to its customers by email, which contains a CTA that leads to a web or landing page that contains a form that if completed by the customer is sent a confirmation by SMS, finally the days before the event is impacted through advertising campaigns with discounts for friends and family. It is a flow that communicates with the same customer through different channels but has finds the interaction with each of them to evaluate a next action, is what we call omnicanality. In addition, all the information that we obtain during the process is stored to improve the knowledge about the preferences that our clients have.
The Journey Builder is a graphic tool that allows us to configure from the simplest communication flows to complicated customer relationship campaigns. The examples of marketing flows that we usually work from ShowerThinking are welcome packs, on boarding, off boarding, cart membership, renewals, event registration, we miss you, commercial reactivation, etc.
Automation Studio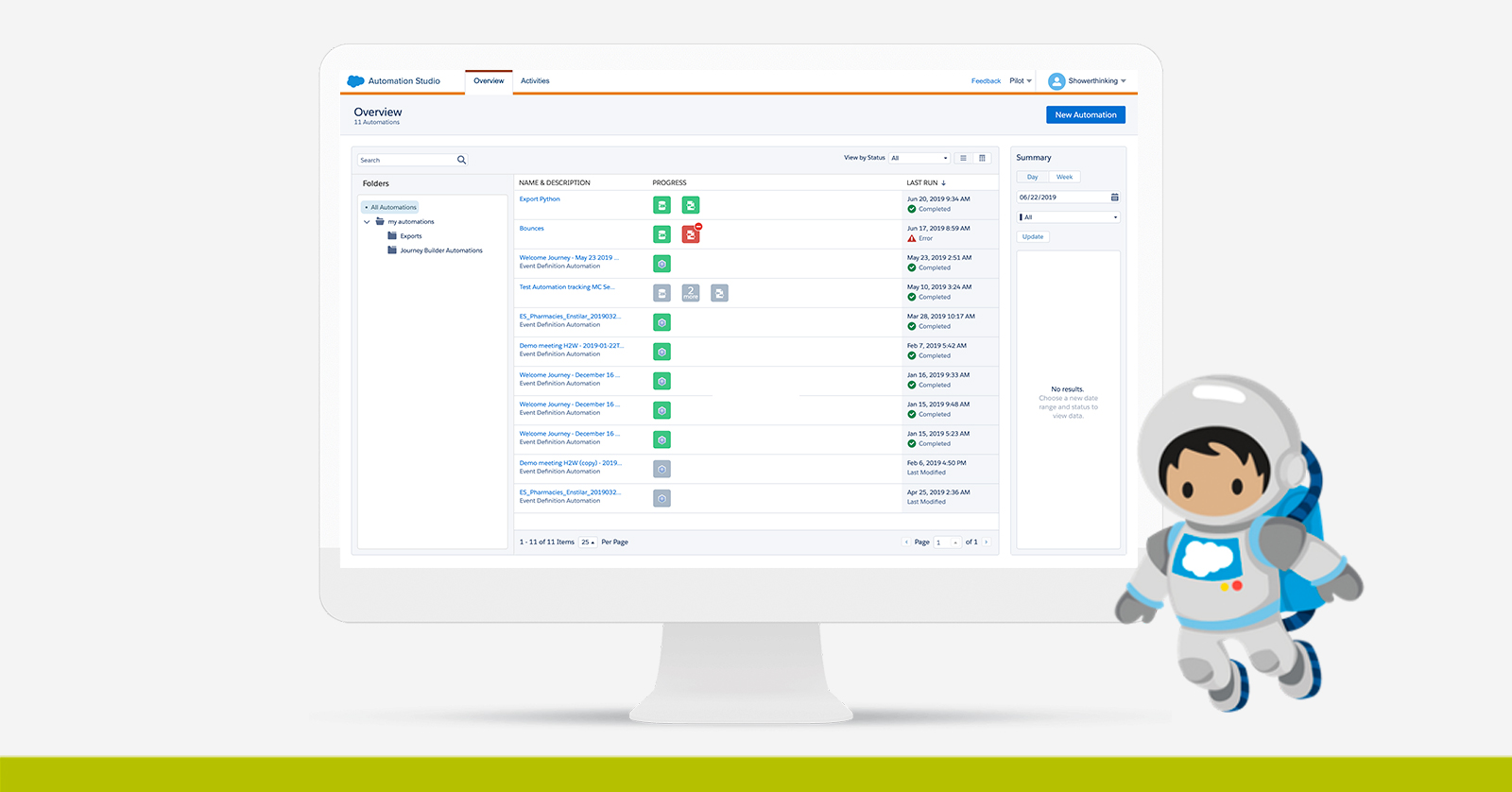 The Journey Builder module works in tandem with Automation Studio, which is a tool that helps us to segment our customers and choose who we communicate with.
Suppose we want to contact those customers who have not made a purchase for more than 90 days. This is precisely the function of Automation Studio, we generate lists of customers that we will introduce in a process in Journey Builder.
Let's take a more advanced example: we want to automate the sending of an email with a discount to customers who have not made a purchase for more than 90 days, and if they don't respond to the email, they will enter a retargeting campaign for a month, specially designed to make them consume products again. With Automation Studio we can automate the segmentation and with Journey Builder we can automate the sending of the discount by email and the retargeting campaign.
Audience Studio or DMP (Data Management Platform)
Audience Studio is Salesforce's DPM, the Marketing Cloud tool that captures and unifies data, to activate marketing campaigns. It allows a better knowledge of the customers and generates much more personalized actions to increase customer engagement or experience through advertising campaigns, content and e-commerce. DMP not only works with your own data, it allows you to locate potential audiences through second to third party data.
Interaction Studio Build & Listening allows you to pick up every point of contact you make with customers, both online and offline. Whether about customers identified as anonymous users, it collects all interaction data in real time, building an engagement profile that allows to identify and deepen the knowledge of customers, such as which relationship channels are their preferences. Combined with the engagement tools, this makes the Marketing Cloud a powerful tool for generating unique customer experiences.
Analytics, Einstein Predictive Content and Datorama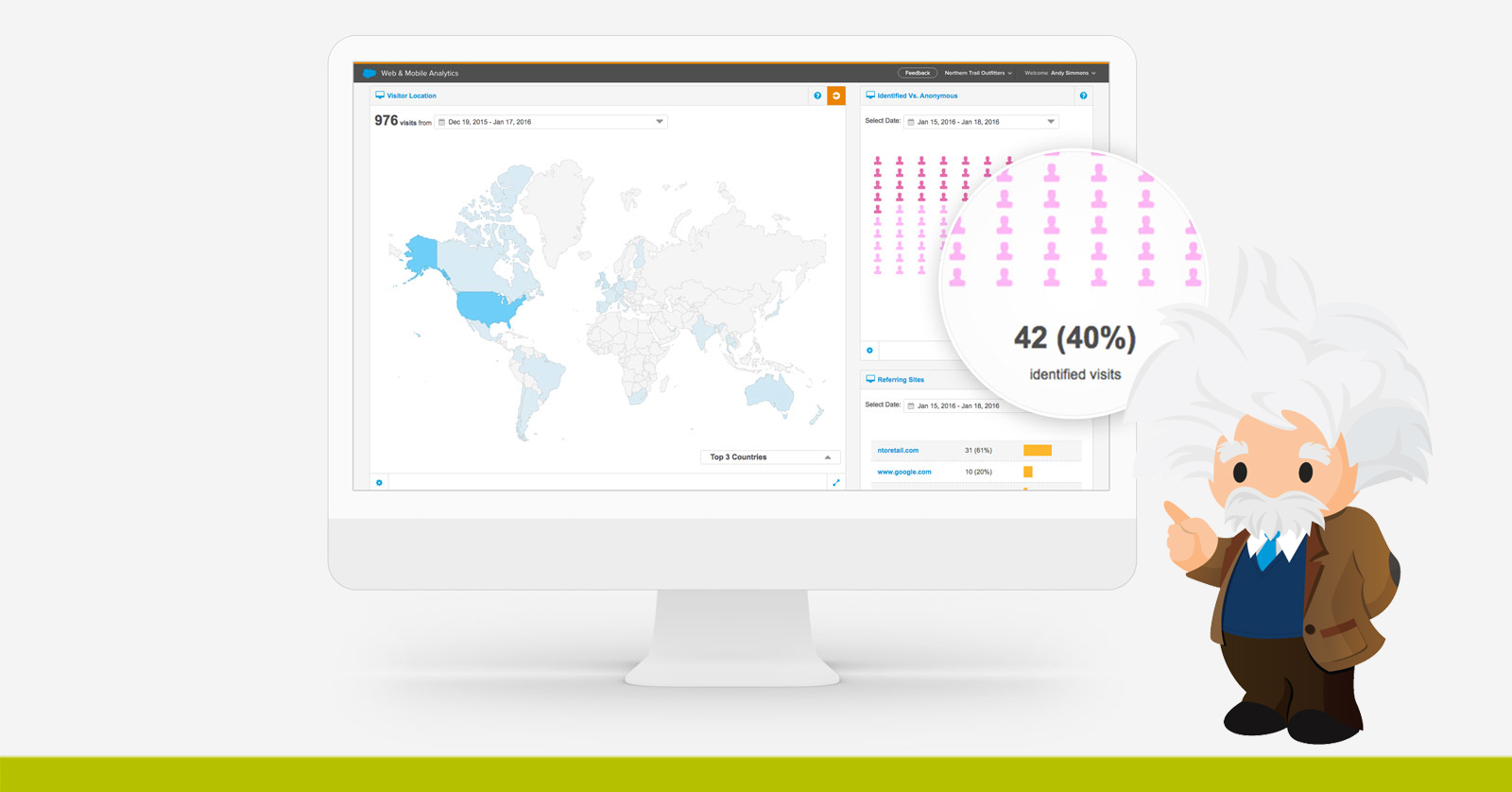 We can use the own reports generated by the platform. It is one of the few tools that gives us the possibility to extract all the information in raw and download it through an excel or csv file to analyze it externally.
It also has a very interesting element, called Einstein Predictive Content to make the prediction of customer behavior with respect to content.
Recovering the acquisition history of Salesforce Marketing Cloud, it is the purchase of Datorama in 2018 that has meant a significant advance in the area of analytics. It is a tool focused on both agencies and marketing teams, offering a suite of integrations with the most important digital technologies, as well as a series of functionalities for the design of control panels.
What you need for Marketing Cloud implementation
Choose marketing automation or digital marketing hub
There are dozens of Marketing Automation tools. Marketing Cloud has been highlighted by Gartner as a leader in multi-channel automation tools, a new category called marketing hub and which sets it apart from the competition. There are multiple automation tools with more limited functionalities, some others oriented to a small business segment. There are other tools that are located in a different quadrant since they are open source tools where there is no license fee.
Work team
An important element in Marketing Cloud is to know what kind of human team is needed to operate this tool. He works hand in hand with the Marketing Automation specialists and the technical programmers or developers, while the specialist is in charge of all the automation and segmentation configuration, the technician gives support on the integrations and code requirements. Sometimes, on large Marketing Cloud projects it is necessary to work with Salesforce Architects, who offer security on the performance and stability of the platform.
The rest of the marketing team works together with the Marketing Automation specialist: the digital producers in charge of design and layout and content generation, the trafficker who offers optimization support for paid media campaigns, and the community manager in charge of operating Social Studio.
Marketing Cloud has the possibility of dividing the operation of the platform under different business units, called Business units. For example, if your company is divided into different business units by geographical region or by different brands. You also have the possibility of creating a business unit for a partner company can develop a marketing program coordinated with you.
Salesforce Certifications
Many of these positions we are talking about require very specialized training. Salesforce has one of the best online training platforms for its products called Trailhead. If you want to go a little further, you also have the possibility of obtaining official certification. These are exams that you can take at authorized centers or online from home if you have a webcam. Specifically, Marketing Cloud has 4 certifications, each one oriented to a different profile:
Conclusions
Marketing Cloud becomes a practically unique tool in those projects where you want to take full advantage of databases, whether for acquisition strategies, reactivation or customer loyalty. Don't hesitate to contact us if you have any questions about the tool or would like us to guide you through the implementation and operations of Salesforce's Digital Marketing Hub.