Salesforce Marketing Cloud is a trend and surely if you already work with this platform you will be curious to know a little more about the modules it has, such as Social Studio, Email Studio, Advertising Studio, etc.
In this article, we'll take a closer look at what Social Studio is all about and why it's important to take it into account when generating personalized experiences for the customer through social channels or for managing publications within the Marketing Cloud itself. If you are not yet familiar with this Digital Marketing Hub platform, we invite you to find out more about it in the following post: What is Marketing Cloud? The Salesforce Digital Marketing Hub.
What is Social Studio?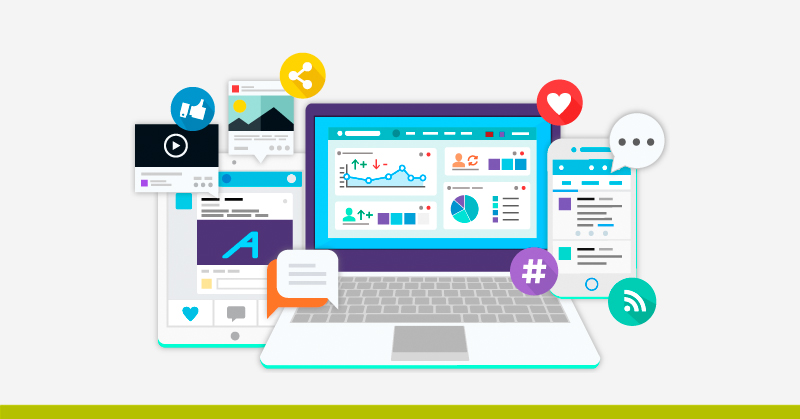 Nowadays there are many tools to manage profiles and accounts in Social Networks simultaneously such as Hootsuite, Sprout Social, or Metricool. This kind of tool is very useful since they allow complete management of Social Networks and also offers advanced measurement and analysis functionalities on the published contents.
However, Social Studio is one step ahead as it is more than a social network management tool. And you will surely wonder what characterizes Social Studio of this type of tool mentioned since at first glance it seems very similar. The answer to this kind of question lies in the fact that Social Studio (as a module within the Marketing Cloud) connects CRM, customer service, and marketing data to generate a personalized experience for the customer through Social Networks and strengthen the relationship with them. This means that in addition to being able to manage your profiles and Social Media accounts from the same platform, you can link all the interactions of your customers and followers with Salesforce's CRM and customer service module data to offer them 100% customized solutions based on the data we have about them.
Social Studio features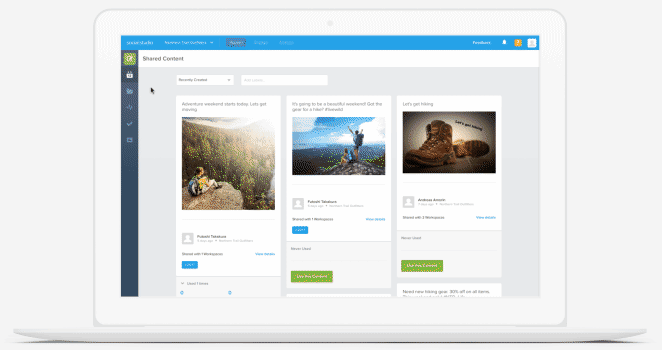 Social Studio is a very complete tool to manage all types of communications in Social Networks and therefore has a series of features that make it an ideal tool to manage any communication without having to leave the  Marketing cloud. These features are as follows:
Social studio overview
Social Studio allows you to keep track of your social network profiles in real-time and know what they are saying about your brand or your competitors through these channels. It also allows you to locate where these social conversations are happening so that it is easier to deal with them.
Social media management
Nowadays there are tools like Hootsuite that allow you to manage all your profiles in Social Networks from the same platform, and it is precisely Social Studio that allows this functionality apart from incorporating other features that make it a very powerful tool. From generating publications, programming them, responding in real-time, etc
Real-time interaction with the client
Social Studio's connection to the Service Cloud allows the possibility of generating incident plans through social networks or simply automating and sending these communications to customer service teams. In addition, if the customer is included in our database with their social network profiles, we can keep track in the CRM of the number of times they ask the brand on Social Networks.
Calendar of contents and publications
In addition to all the above, you can have a complete follow-up of all the contents and publications pending and launched thanks to a powerful calendar. In this way, in a very visual way, it becomes very easy to organize all the publications within Social Studio.
What is Social Studio like inside?
When using Social Studio, you will see that it consists of 3 components that appear as menus or general sections:
Publish: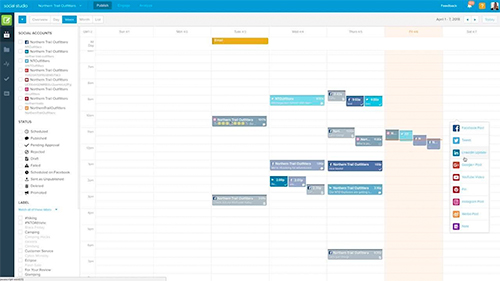 Within this component, we find all the functions available to create, publish, or promote content at scale, in all the social accounts you need. By working on this menu we can publish content in real-time or schedule it for publication in the future, in addition to viewing such content or content already published through the Calendar (publication calendar).
It should be noted that the fundamental part of this component is the Calendar (publications calendar), and from it, you can carry out the following actions:
See when publications have been made, what they are about and who created them, all from the post details tab.
Add and review notes in the Calendar (depending on the level of permissions you have).
Filter the content and publications on the Calendar by Social Account and other types of filters.
Engage (interaction):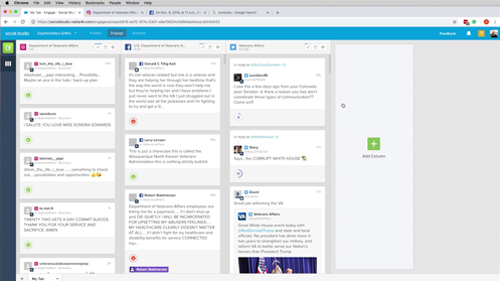 This component has the functionality of being able to monitor the content already posted from Social Studio in any assigned Social Account or content not already published even if it was not from the same tool.
Therefore, through Engage you can see in real-time who is commenting, responding or sharing your posts on Social Networks and respond to those interactions or mark them to be assigned to other team members.
This menu is divided into different tabs (with a maximum of 30 tabs) which contain one or more columns (unlimited). Each column may contain one or more social accounts, although they may coexist between different columns, with for example two of the same accounts in different columns. The only peculiarity of this arrangement is that the tabs can have the same accounts but with different filtering options.
This component, apart from being very useful, offers a real-time collaboration by which you can see which colleagues are working and viewing or editing posts in order to avoid duplication.
Analyze: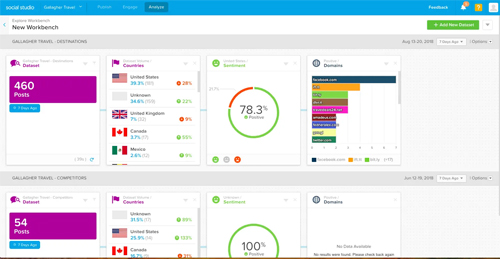 This component basically serves as an analysis tool for your social channels. Within it, you can observe through dashboards and tables several metrics that will help you to understand in a more complete way the interactions within your social accounts.

When monitoring your social accounts, brands, and competitors it is very useful to use the dashboards offered by Social Studio. These dashboards offer general performance metrics, keywords, trends, etc.
On the other hand, there are workbenches that are very useful because they allow a greater degree of customization thanks to the fact that they work with Artificial Intelligence through Einstein Vision. From these workbenches, you can observe and understand the social conversations held on Social Networks about your brand.
As the inclusion of these two elements (dashboards and workbenches) you can create reports on dashboards and posts in PDF format
Main advantages of Social Studio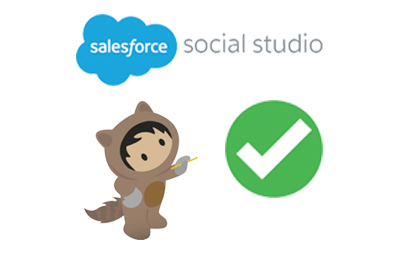 As we have seen before, the main advantage of Social Studio is being able to manage all types of communication with your clients without leaving the Marketing Cloud. This is very important since professionals in Social Networks are used to working with at least 3 or 4 different tools throughout the day, and with Social Studio while performing actions in social channels, you can go out and send a pending email in Email Studio or create a new workflow through Journey Builder, all from the same platform.
In addition, since it is integrated with Salesforce CRM, we can locate customers whose profiles we have the data on social networks and thus be able to offer personalized assistance depending on the type of customer. This way it will seem that we are always dealing with them face to face as we will have information available to know what to inform them about and how to attend to them efficiently.
All this added to the possibility of managing all your company's social channels on the same platform and being able to analyze in real-time what they say about your brand and generate panels and reports, makes Social Studio one of the most powerful tools as far as Social Media Management is concerned.
Service Cloud connection
Finally, as we have already mentioned, there is the possibility of connecting Social Studio to the Service Cloud. As you may know, the Service Cloud is Salesforce's cloud through which we can offer our customers personalized, intelligent, all-around customer service 24/7.
Today, many companies have real headaches when it comes to correctly identify their customers' social network interactions and being able to respond to them in the right way, always keeping track of all the interactions made by the customer. Therefore, with the possibility of connecting Service Cloud with Social Studio, customer service processes are efficiently streamlined since from Social Studio we can derive our customers' interactions in the form of cases to the corresponding agents in order to offer customers a totally effective service.
Although Social Studio requires quite a lot of knowledge and implementation to be able to exploit 100% of its functionalities and take advantage of all the benefits it offers, from ShowerThinking we are specialists in developing together with your company automation and marketing management programs through Marketing Cloud and Social Studio. Therefore, if you need help or training in Marketing Cloud we have the right team that can help you, so don't hesitate to contact us!