Privacy is coming to the internet while cookies and tracking pixels are going away. Apple is leading a major change in the email marketing landscape with the introduction of Mail Privacy Protection among other new features that professionals and software providers will need to adopt.
Although these changes imply far-reaching effects for many providers, we will specifically discuss some considerations for Salesforce Marketing Cloud. Let's start from the basics…
This summer 2021, Apple announced a slew of new features that would be introduced with its iOS 15, iPad 15, and MacOS Monterey releases to come this fall 2021. As with past updates, some of these new features were designed to offer users more and better control over the access that others have to their data. In fact, 3 of them are for Apple Mail and have a specific impact on those of us that work in email marketing.
This is nothing new for Apple. Over the past few years, Apple has been tightening up on user privacy. In recent updates it introduced new features that blocked all third-party cookies and required applications to ask for users' permission to track their activity outside of their own apps. Ultimately, this is what users want. So we can only expect this trend and similar changes to continue.
So, considering how Apple Mail takes up around 40% of email client market share, you may be very interested in knowing just what these newest features are and if they will have an impact on what you do, specifically in Salesforce Marketing Cloud. 
In this article we'll look at the following: 
What are these 3 features?

How will they affect email marketing and Salesforce Marketing Cloud?

Can you prepare for this change?

How can you adapt to this change?
Three New Apple Mail Features That Will Directly Impact Email Marketing
The main feature that will impact email marketing is the Mail Privacy Protection feature. When a user opens the Apple Mail app for the first time after the fall update they will see the Mail Privacy Protection feature, asking them if they want to have their Mail activity protected or not. (It's safe to assume that most will opt for protection.)
How does this impact marketers? As Apple says:
Feature #1: "Loading remote content privately in the background" – Marketing emails, newsletters, and some email clients use an invisible tracking pixel to track whether someone has opened an email or not. But with this new feature the emails are automatically loaded, or "opened", in the background. So for marketers' purposes, they will show as having been opened, even if they haven't actually been opened.
Consider that Marketing Cloud includes a tracking pixel in each email to check if and when an email is opened. This feature will thus be affected.
Feature #2: "Hiding your IP address" – This means that senders will not be able to determine location or to link email habits to other online activity based on IP address.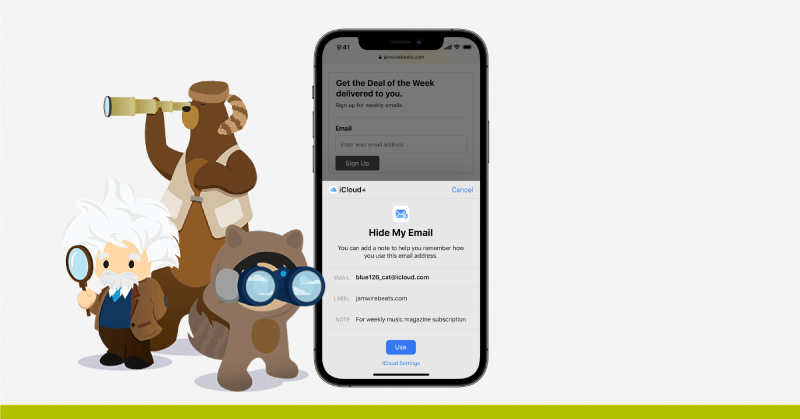 Feature #3: Hide My Email – Among the plethora of new features being released this fall for iOS15 and other OS's is also iCloud+. This is a paid plan that offers such features as extra iCloud storage, Family Sharing, Private Relay, and Hide My Email.
Hide My Email will allow users to mask their email with a fake one. These "fake" emails are random Apple-created icloud.com addresses that provide users with the luxury of providing a type of "burner" address when they don't want to provide their true address.
This feature will have a profound impact on email marketing since we will no longer be able to identify a specific user. In fact the number of duplications in our database will grow. It will be important to consider a proper consent management and deduplication strategy in your Marketing Cloud instance.
The below diagram gives you an idea of how Apple will implement these new features using a proxy connection between the user and the email services.
How Will These New Features Affect Email Marketing?
These changes will have a most visible impact on the heavily-monitored open rate. For most subscribers using the Apple Mail app after this update, you will no longer be able to tell if the recipients opened your emails, what time they opened, their geolocation, or which device they used to do so.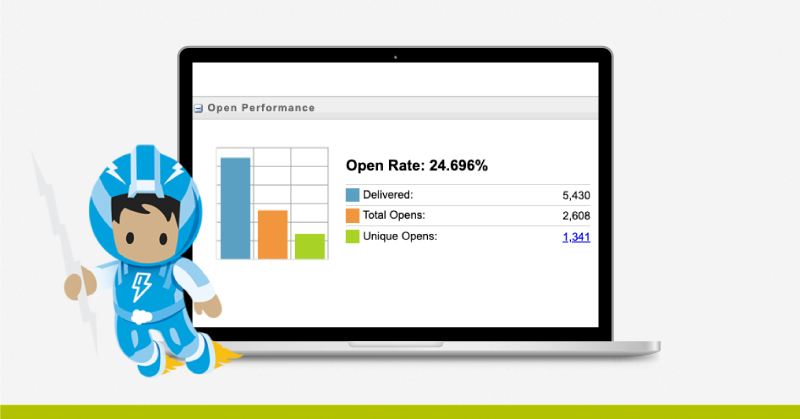 At first thought, the name Mail Privacy Protection might make you think that it would lead to a drop in the open rate. However, because emails will be automatically loaded "privately in the background" regardless of whether they have actually been opened or not, then rather than leading to a drop it will cause open rates to rise significantly, depending on the proportion of your subscribers that use the Apple Mail email client.
So if open rates become unreliable and geolocation is unavailable for many subscribers, that means that other aspects of email marketing will be affected. Here are some of the big ones:
A/B Testing by opens

Send time optimization

Re-engagement journeys and flows based on opens

Localized content based on opens or IP addresses

Monitoring deliverability and list hygiene
How to Prepare for Mail Privacy Protection
It's important that we get a head start by taking a look at what we currently have. Here is a helpful checklist of steps you can take to get prepared.
Determine potential impact

. Examine your audience and get an idea of what percentage of your subscribers are iOS, iPadOS or MacOS users. Even though the impact will vary based on whether they actually use the Apple Mail app or opt in to Mail Privacy Protection, it will give you a good idea of how large (or small) that segment is. Here's a step by step guide to how you can use Marketing Cloud Reports to get an idea of these segments.

Click on "Reports" under the Audience Builder tab.

In the Report Catalog, use the Email Performance by Device report.

Change the view to Table View.

For the Rows, besides Mobile or Desktop, try adding some of the following: Device Model, Operating System Model, Operating System Name, Email Client Name.

For the Measures, besides the initial Opens and Clicks measures you might also try Unique Opens and Unique Clicks.

Clean house now

, while you can. Take a look at your deliverability and list hygiene. How many unengaged subscribers do you have? It's a good idea to focus on email deliverability while you can still use opens as a key indicator.

Create a reliable opens audience

consisting of subscribers that are not using Apple Mail. If you wish to test opens at times in the future, this audience can be your guide.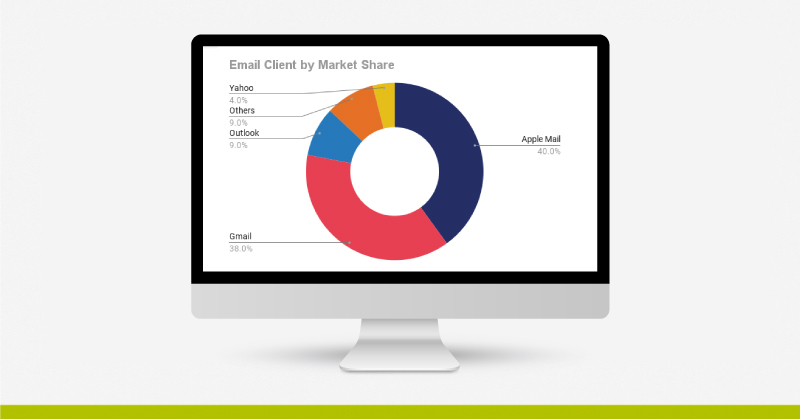 How to Adapt to Mail Privacy Protection
It goes without saying that for many in email marketing a world without reliable open rates will require significant effort to adapt. While each audience is different, here are some helpful tips to get you started.
Rethink what an engaged subscriber is for you

. This means looking at other signs of engagement or combinations of such signs. That could be date of opt-in, unique clicks, purchases, on-site behavior, sign-ups for events and other touchpoints.

Establish new baseline metrics

. CTR should be key, but keep an eye on other metrics that help to monitor your new engaged subscriber profile, or the opposite, such as the unsubscribe clicks.

For automation,

set your splits and triggers to be click or time-based

rather than open-based.

Take a long-hard

look at your email UX and content

. Does your design guide your readers to your CTA? Does your content motivate them to click? Is your content concise and direct? Is your email mobile-optimized? You would also do well to take a look at your subject lines and sender profile.

User identification.

Hide my Email creates the possibility of different email addresses for the same user. So you will need to set up an appropriate deduplication and user-identification strategy.
As mentioned before, privacy changes and Apple is nothing new. We can therefore expect that these changes continue, not only with Apple but that many other companies will follow in their footsteps, as is often the case. Rather than resisting, the best thing we can do is get on board ourselves and adapt to the preferences of users. Ultimately it's a great opportunity to continually reassess and improve your approach to email marketing. 
Salesforce Marketing Cloud will probably adapt to this new change. With the 5 major releases of Marketing Cloud per year we can most likely expect to see new features to address these important changes.
In the meantime, we will all continue to adapt to the changing landscape of email marketing.

At ShowerThinking we're always glad to help you on that journey.