No one doubts that Salesforce is currently one of the most common technologies in the business ecosystem. From micro-SMEs to large corporations, they are betting on the leading platform in customer management. In this article, we will explain what Salesforce is and how it has evolved from its beginnings as a CRM to what we now know as the Salesforce economy. At the end of the reading, you will be able to conclude that Salesforce is much more than a CRM program.
Salesforce CRM
Almost everyone knows Salesforce as a CRM, but the reality is that it is much more than a customer management tool. However, the Sales Cloud (the trade name for Salesforce CRM) remains the company's backbone. In order to fully understand what Salesforce is, it is important to first understand what a CRM or Customer Relationship Manager is: its very acronym gives a very clear idea that it is a tool in charge of managing business relationships with customers, supporting all the processes of recruitment and negotiation. Salesforce divides the CRM into two modules: on the one hand, we have the acquisition and on the other the negotiation, both linked by monitoring and reporting functions. It should be stressed that Salesforce was created as a B2B CRM and its process is highly optimized for this type of business, although it has now been perfectly adapted to B2C models.
Salesforce CRM is built on a relational data model, linked data tables that support a business process and are called objects in Salesforce. But in addition to being data tables, the objects also incorporate a set of automation and rules that generate a series of specific functionalities to cover a series of business needs. Some of the standard Salesforce CRM objects are:
Leads or customer acquisition
The operational model proposed by Salesforce begins with the capture of potential customers or leads, a task that is normally managed by the marketing teams. Once these potential customers have been captured, they must be evaluated and qualified for the sales force to start dealing with them. To this end, they offer a battery of functionalities that allow the lead generation and lead management processes to be optimized.
Accounts, Contacts, and Opportunities or negotiation with clients
When a potential customer is qualified by marketing it means that they are ready to enter into a commercial process. The Salesforce model involves turning the lead into account, customer, and opportunity. Data that was previously in a single data table or object becomes 3 tables or objects. In this way we strengthen the relational data model, avoiding the typical problems of organization and duplication of information.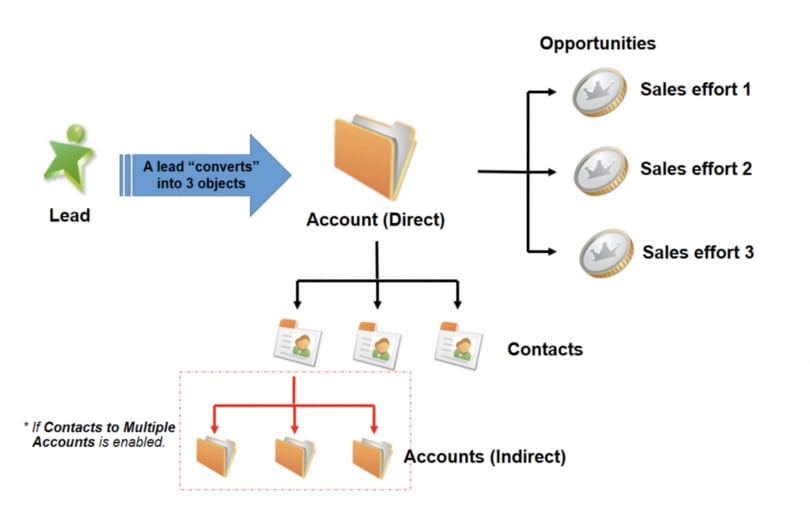 The Account is the master object in the sales or CRM application, it is the object that contains all the company data: fiscal, headcount, invoicing, industry, etc.
Companies are made up of employees and collaborators, this is registered at the level of the Contact object and contains all identity and contact data: gender, name, surname, telephone, email, position, seniority, etc. Therefore, on an account register, we link several contacts.
Finally, we had commented that a qualified lead is ready to be managed by the sales force, therefore the lead contains commercial negotiation data that in the conversion process go to the Opportunity. One of the keys to the opportunity is that it includes all the stages or milestones through which a negotiation passes. An opportunity is related to a single account and can be related to several contacts, those who intervene in the negotiation process that reflects the opportunity.
Campaigns or management of marketing actions
To support marketing or sales actions, whether for recruitment or loyalty, Salesforce has the object of campaigns. The campaigns are related to campaign members who refer to both leads and contacts. In addition, the campaigns also allow different ways of relating to the opportunities, which helps to adequately measure the ROI of each campaign.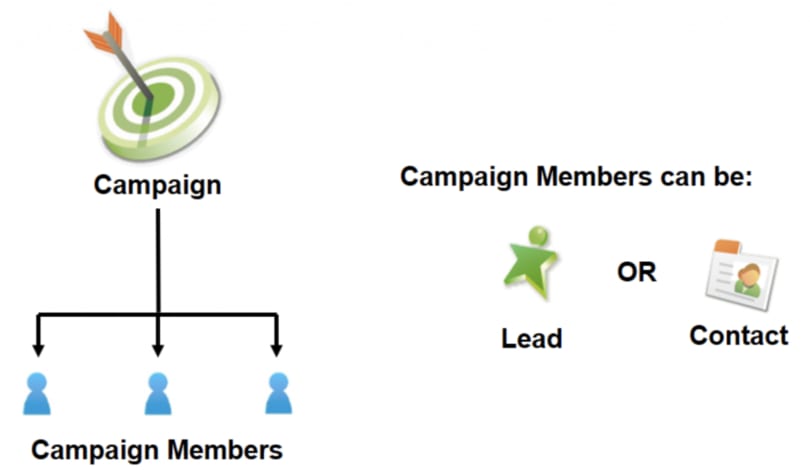 Activities or follow-up
A CRM is a sales productivity tool and one of the keys is the activities, which help to manage the agenda and tasks of the salespeople. The big difference with an activity manager of any calendar is that each activity we record in Salesforce is linked to the relevant contact record, account, opportunity, or object. In other words, as well as helping us to manage the daily activity, we are recording the relational history of the commercial process in an organized manner. And without forgetting collaboration, the possibility of generating professional relationships between teams.

Reports and control panels
Although the panels and reports are not an object, it is worth mentioning them as a fundamental part of Salesforce CRM. Since its origins, Salesforce has incorporated a tool that allows you to prospect your data in a direct and very intuitive way, without the need for code.
Origins of Salesforce
The beginnings of Salesforce are in film. Marc Benioff, Parker Harris, Frank Dominguez and Dave Moellenhoff began working on their dream in a San Francisco flat in 1999 and their dream was to democratize access to business software. To do so, they decided to develop a new business model based on pay-per-use or what is now known as SaS (Software as a Service).
Another of Salesforce's keys is that it has been based on Cloud technology since its inception. In other words, Salesforce is in the cloud and does not require investment in hardware as is the case with on-premise solutions. It only requires an Internet browser to operate.
And why start with the CRM?
If we analyze it from the perspective of time, we can say that Benioff was a visionary ahead of his time. I explain, the CRM is a software product that has been around since the 1980s and in 1999 (the beginning of Salesforce) the CRM was already a very mature technology, there were many solutions on the market. However, Benioff's commitment to taking CRM to the cloud and democratizing access to business technology generated a competitive advantage that continues to this day. And as a good visionary, he had luck on his side. Over the last two decades, the CRM has evolved from being a tool for control and commercial management to being the main axis of customer knowledge for any company, in many cases positioning itself above the ERP.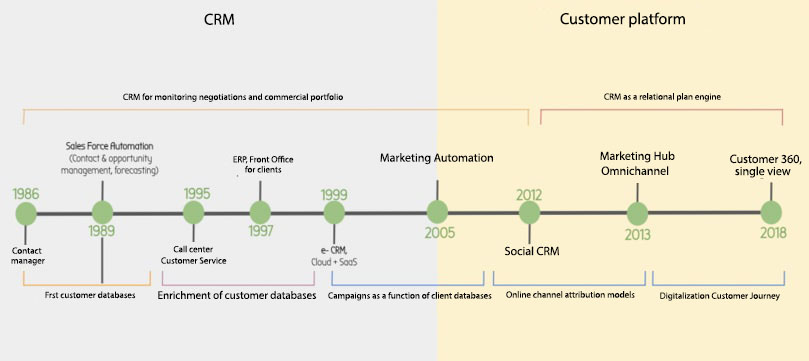 Lightning Platform
As we said at the outset, Salesforce has long since moved from being exclusively a CRM to a customer platform. Part of the company's success is the adaptability it offers when it comes to managing different processes, not just commercial ones. In this respect, Salesforce has grown along two lines: firstly, by incorporating new solutions that cover business areas that go beyond sales (Service Cloud, Marketing Cloud, Analytics Cloud, Commerce Cloud, etc.) and secondly, by improving the platform's customisation, configuration and development capabilities.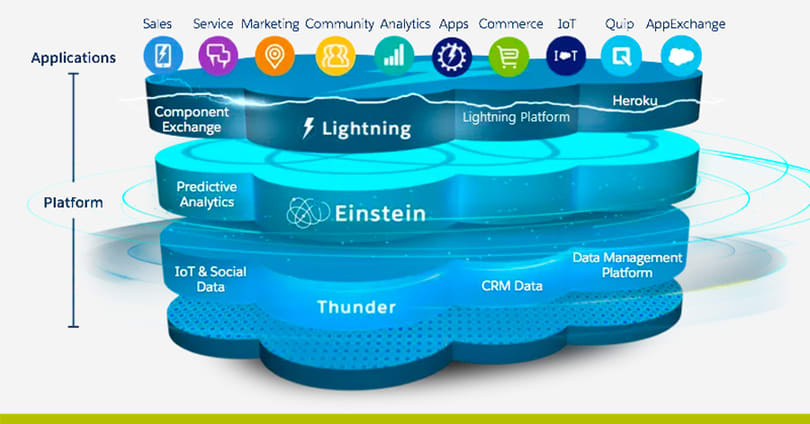 Low Code
Today, Salesforce is the number one low code application development platform in the world. And what does this mean? That users have the ability to develop applications without having to enter a single line of code, in a declarative manner (with configuration). Through the configuration of objects, fields, rules, and automation, applications are generated. The applications are hosted in organizations and the organizations are provided with different functionalities depending on the clouds and licenses contracted.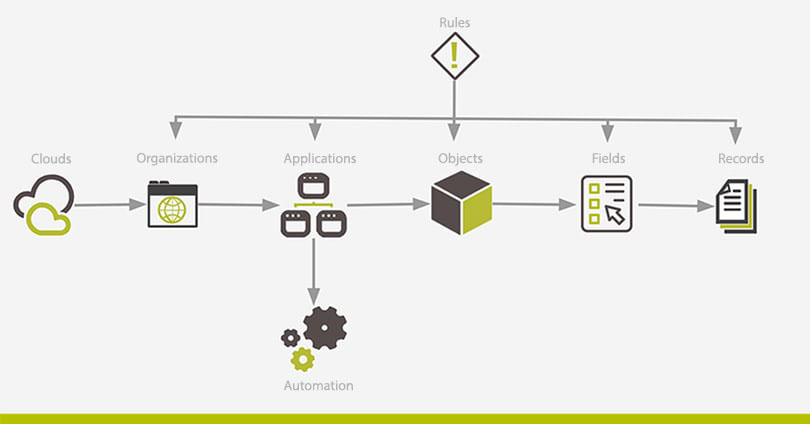 No software
Although we have already mentioned it in the origins of Salesforce, one of the advantages of this platform is that it has been in the cloud since 1999, so it does not require an investment in hardware for its operation. The SaS concept (pay per use) was spread by Salesforce with the slogan No Software, which refers to the fact that it does not require any installation, as soon as you buy the license you already have access to the platform. It also highlights issues such as multi-tenancy, metadata and APIs.
Metadata
As it is in the cloud, all organisations are always up to date with the latest version (Salesforce releases 3 times a year) and this means that you do not have to carry out migration projects every time you change version, as working on metadata ensures that you do not lose any customisation made in the organisation.
Multinenant
Another advantage of the cloud is that all users take advantage of Salesforce processors, AWS machines that have a processing speed at the highest level. And this is the same for any company, whether it's the Santander bank or the SME below you, all Salesforce machines perform at the same level.
API
From the outset, Salesforce has known how complicated companies' technological ecosystems can be and has always been committed to building bridges between data silos. One example is one of its latest acquisitions, Mulesoft, a leading provider of integration solutions.
Salesforce mobile app
Another feature of Lightning Platform is mobility, it has all the desktop functionalities in the mobile version and not only that, Lightning Platform allows the development of totally customized mobile applications.
Salesforce Einstein
For a few years now, Salesforce has been using the name Einstein to refer to the intelligence functionalities it incorporates into its platform. A position that has evolved over time, firstly by giving only the name to the Artificial Intelligence functionalities, but today Einstein Analytics is Salesforce's Business Intelligence platform, which was previously known as Wave.
Salesforce Ecosystem
We have just seen lightning platform, which is the main gear of the Salesforce ecosystem in which, in addition to being able to develop customised applications, we find some of the main clouds: Sales Cloud, Service Cloud and App Cloud. However, Salesforce has been evolving at a dizzying rate over the last few years, incorporating tools and solutions that are not developed within the Lightning Platform.
Salesforce Clouds
Some of these solutions are focused on serving different areas of companies: sales, marketing, customer service, logistics, IT, etc. This grouping of solutions by area is what Salesforce has called Clouds. The most important of these are: Sales Cloud, Service Cloud, Commerce Cloud (e-commerce oriented), Analytics Cloud, Marketing Cloud,IoT, Community Cloud, Integration Cloud, etc.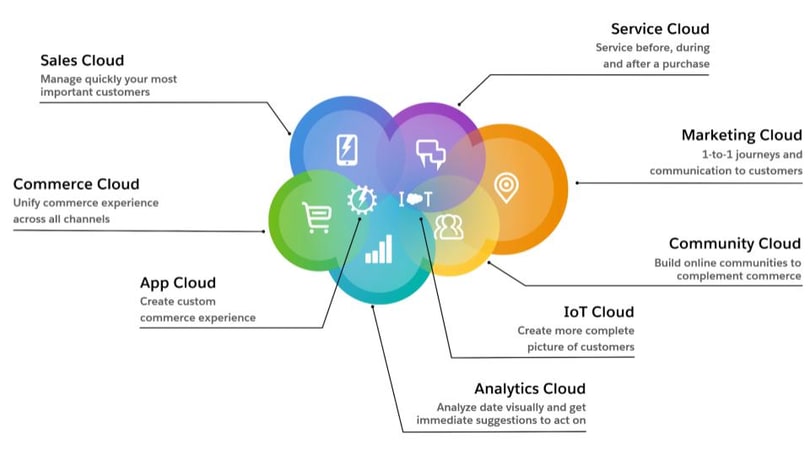 App Exchange
Salesforce also has an ecosystem of partners who have developed applications that integrate with Lightning Platform or are even developed on the platform itself. To leverage the entire partner ecosystem, Salesforce launched the App Exchange where Salesforce partners can upload to applications for marketing.
Vertical solutions
And the latest trend in Salesforce is to bring out vertical solutions focused on covering the processes of different industries, among the most important of which are HEDA (university oriented), Finance Cloud or Health Cloud.
Salesforce Economy
If some time ago Salesforce was no longer just a CRM, today we could also say that Salesforce is no longer just a customer platform. More correctly, Salesforce is an economy or a system for producing, distributing, trading and consuming business applications. The numbers of this company speak for themselves, if we look at the report made by the consulting firm IDC we find:
By 2022 there will be 3.3 million people working in the Salesforce ecosystem.
By 2022, Salesforce's revenue from its entire ecosystem will reach $859 billion.
89% of the Fortnune 100 companies have Salesforce.
For every dollar that Salesforce earns, partners generate 5.
Salesforce CRM has more market share than its next 10 competitors combined.
Salesforce is the leading customer management platform, not only in sales but also in marketing.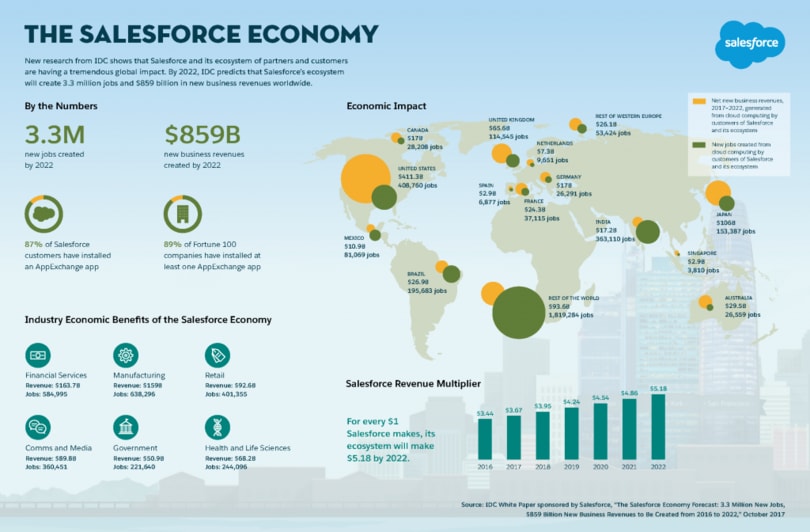 Salesforce Community
A large part of Salesforce's success is how it has cared for its community (customers, partners and employees), understanding the needs of each party. I always like to give the example of wordpress, why has this CMS imposed itself on its competitors? Because the key is in the community. As with Salesforce, any problem or doubt you have is backed up by a community of knowledge that helps you solve your problem or provide you with a solution. In other words, if you're stuck in the configuration, development or operation within Salesforce and you Google your problem, you'll almost certainly find a solution to it. Another example is the partner ecosystem, as through platforms such as App Exchange it has been able to share the cake among its partners.
Trailhead
Following the community concept, we find Trailhead, the most powerful software eLearning platform in the world. Salesforce knows how important it is to have qualified professionals to help improve the success of the platform, for that reason it has been developing Trailhead for 4 years. A way to empower any kind of Salesforce user: business users, administrators, developers, etc. In addition to Trailhead, Salesforce provides these users with completely free development environments that help accelerate the learning process. In the following link, you can register a new development environment.
Salesforce Certifications
Finally, Salesforce has been committed for several years to regulated training through certifications. Both partners and clients are challenged to pass their more than 20 certifications, ranging from Administrator or Consultant to Architect. For more information, I recommend that you read the article Certifications in Salesforce: A guide to improving your professional career.
Conclusions
Salesforce is an economy that ranges from a technological suite of business solutions to a community where customers, partners and employees live together. Experienced ICT professionals like to compare the Salesforce "bubble effect" with what happened with SAP a few years ago, a comparison based on the speed of growth that everything related to the Salesforce ecosystem is experiencing. Bubble or not, the truth is that Salesforce has changed the business software model and is now a technology that is 4 or 5 years ahead of the rest of its competitors.