Although preparing for the trip to San Francisco to attend Dreamforce (Salesforce's annual event) is becoming a habit for the team, this year is particularly interesting for me. As I have commented on several occasions, Dreamforce is probably one of the biggest marketing events in the world.
This year the number of attendees will probably exceed last year's 170,000. Former President Barak Obama and Tim Cook from apple complete the more than 2,700 sessions available to attendees. But there are 2 important developments in the world of marketing that we are looking forward to hearing about in detail:
The launch of Customer 360 experience as a new customer identity management platform
How Tableau will be integrated as an analytics platform within Salesforce
Improving the customer experience is a critical element of improvement for many companies, and for this reason, being able to know the different identities of the customers throughout the interactions they have with our company is critical. The ability to orchestrate such integration and to unify marketing, sales, analytics, and e-commerce platforms is the secret to success.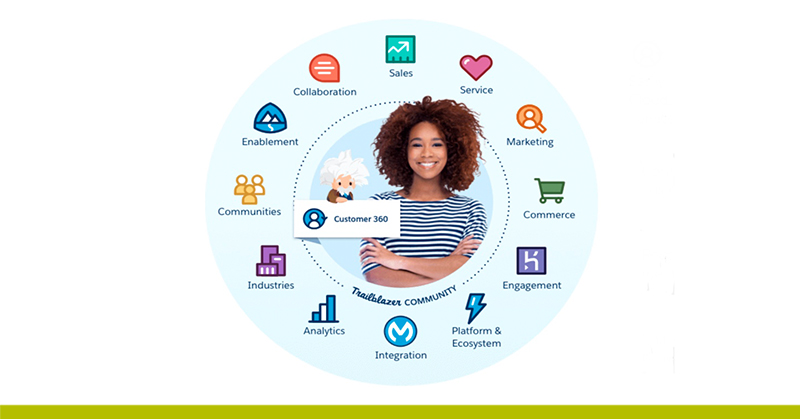 Customer 360 experience makes it possible to easily relate the records of the same person in different systems. It creates and stores a customer's profile and acts as a central office that exchanges data and events in all systems at the moment they are needed.
In fact, no other platform on the market has yet managed to achieve the challenge of unifying them. For years, companies have been trying to get a 360-degree view of their customers, but with their departments using different tools to manage the data, they tend to generate disconnected experiences for their customers.
The center of the main hall at Moscone West is dedicated to this new feature, which gives an idea of the importance Salesforce attaches to this functionality.
All of us who like analysis is very curious to know how the puzzle of analytical tools available to Salesforce fits together. Datorama, Einstein Analytics, Tableau, or the native reporting platform in salesforce itself must find their niche.
In two weeks' time, we want to tell you from San Francisco what the most important developments are for the marketing world and what the trends are for 2020. See you!